VIA – ABC ASIA
Vanuatu braces for Cyclone Jasmine
PHOTO
A radar image of Cyclone Jasmine, which formed off the Queensland coast on February 4, 2012. The cyclone is intensifying as it nears Vanuatu. [Bureau of Meterology]
VIDEO from Australia Network News
Created: Tue, 07 Feb 2012 00:39:37 GMT-0800
AUDIO from Pacific Beat
Created: Tue, 07 Feb 2012 00:39:37 GMT-0800
AUDIO from Pacific Beat
Created: Tue, 07 Feb 2012 00:39:37 GMT-0800
Last Updated: 21 hours 38 minutes ago
Weather forecasters say a cyclone heading towards Vanuatu may pass close to shore and not hit the country directly.
A yellow cyclone alert is in force ahead of the cyclone's arrival on Tuesday night.
But Neville Koop from the Nadraki weather office in Suva told Radio Australia there is uncertainty surrounding the cyclone's exact path.
"It may avoid the islands directly and stay somewhat to the west of the southern islands," he said.
Cyclone Cyril
Meanwhile, Tropical Cyclone Cyril is north of Tonga, bringing with it strong winds.
Cyril is located about 740 kilometres east of Fiji, and heading east, south east.
It is also expected to affect flood-stricken Fiji.
A cyclone alert has been declared across most of Tonga, with high seas expected in Fiji.
For the original report go here:
http://abcasiapacificnews.com/stories/201202/3424401.htm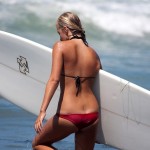 Become A Sponsor!
If you have a product or service that is a good fit for our surf community, we have opportunities for you to sponsor this blog!
Download our media kit now!