IA – ALL HEADLINE NEWS
AHN | All Headline News | Global News

Tropical Storm Sean may become hurricane
Reporter: Diane Alter
Location: Miami, FL, United States Published: November 10, 2011 09:43 am EST
Topics: Weather, Forecast
Tropical Storm Sean may strengthen into a hurricane Thursday as it moves between the U.S. East Coast and Bermuda.
clearpxl
The 18th named storm of the Atlantic hurricane season, Sean's winds may increase to 75 miles per hour on Thursday. The U.S. National Hurricane Center reported that Sean could become a hurricane later in the day.
Tropical Storm Sean is expected to pass about 100 miles northwest of Bermuda Friday with hurricane strength. The system is expected to weaken into a tropical storm by the time it nears Bermuda, according to weather tracks.
Bermuda may be drenched with up to 3 inches of rain. Storm swells are already affecting the island and the southeastern U.S. coast. Heavy fog up and down the East Coast is causing many air delays.
Tropical storm-strength winds will stretch about 225 miles from Sean's core. The system is moving at a speed of 8 mph.
This year has been the U.S.'s costliest hurricane…
For the full article go here:
http://www.allheadlinenews.com/articles/90064460?Tropical%20Storm%20Sean%20may%20become%20hurricane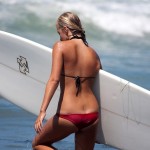 Become A Sponsor!
If you have a product or service that is a good fit for our surf community, we have opportunities for you to sponsor this blog!
Download our media kit now!