VIA – LA JOLLA PATCH
Windansea Surfers at Fundraiser Look Back on Best Waves
The Windansea Surf Club held a fundraiser Saturday at Bird's Surf Shed in anticipation of its 50th anniversary. As part of the reminiscing, Patch asked four Windansea Beach surfers to talk about the best wave they ever caught at the break.
By Jared Whitlock
5:55am
Not many surf clubs can claim to have been as influential as the Windansea Surf Club. In addition to producing world-class surfers, the iconic club has received numerous awards for its public service and philanthropy programs at home and abroad.
Members of all ages gathered at Bird's Surf Shed to kick off fundraising for the club's 50th anniversary, which could involve an international goodwill trip, among other things. While munching on tacos, attendees participated in a raffle and watched a slideshow containing nearly 50 years of memories.


At the event, Patch had one question for surfers Bird Huffman, Hank Warner, Mike Lovell and Mike Hynson: Can you describe the best wave you ever caught at Windansea Beach?
Bird Huffman, owner of Bird's Surf Shed, is renowned for his collection of new and old surfboards:
The best wave I ever caught at Windansea, it was kind of a fluky wave. It was a nice south swell. A-frame peaks. Really, really clean. And there weren't very many guys out, so that right there is kind of rare. I was riding a thin 8-foot-long Skip Frye longboard, which at that time no one really rode boards that long. Single fin, real traditional. I took off on the backdoor, on the left, and jammed through the peak. I just got shacked. A really, really good barrel. It was threading the needle, right through it, you know? I looked around, like did that really happen? There were five guys in the water, so I'm going OK, well, nobody saw it; nobody cared.
Then I got up to the beach and there were three or four guys in the parking lot going "Oh man, that was so sick! That was the best barrel I've ever seen." That was pretty justifiable (laughs). Riding a Skip Fyre board at Windansea with nobody out. Shoot, I haven't gotten a wave like that again.
Hank Warner is a charter member of Windansea Surf Club and has shaped more than 25,000 custom surfboards. He organized the event at Bird's Surf Shed:
For my best, back around 1973, there was a large day at Windansea. The waves were so big that if you looked down Palomar Street, you were taking off further out and over. And I just remember catching a wave outside and riding it forever and eventually making my way to the shack.
My most memorable wave at Windansea was in 1977. I was paddling for a nice set; it was a clean, clean day. There were a lot of people out, but I had a wave on the outside all to myself. Everyone backed off and gave me the peak. Before I got to me feet, the wave jacked up, blast me in the back, held me under, and for a second I thought I would never go out and surf Windansea again. It was probably the scariest ride I've ever had. But that was my most memorable wave at Windansea. Go figure. It was a wipeout trying to drop in.
Mike Lovell, 61, is well-known for surfing Windansea Beach and the North Shore:
It was winter of 1967. Simmonds Reef (at the north of Windansea Beach). We had a pretty good-sized swell. It was about, well, Hawaiian 3-4 foot, California about 6-7 foot. I got a wave off the point, rode it all the way across the inside reef. It was unbelievable. Reminded me of Rocky Point on the North Shore. I surfed there in the '60s, and coming home and surfing something like that was kind of unusual. It was just great.
Mike Hynson is a legendary surfboard shaper who's recently been promoting his new book, Transcendental Memories of a Surf Rebel:
It's hard for me to remember the single best wave after all these years. My big thing, getting older, I don't surf as often, but I like to catch the biggest wave of the day. I've sized up the place. Low tide, high tide. You know when it's going to be good…
For the full article and more photos go here:
http://lajolla.patch.com/articles/windansea-surf-club-holds-fundraiser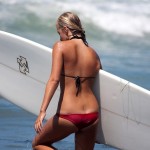 Become A Sponsor!
If you have a product or service that is a good fit for our surf community, we have opportunities for you to sponsor this blog!
Download our media kit now!