VIA – THE SUN

Amazing wipeout photos make a splash
Board stupid … a surfer takes a dive on the North Shore in Hawaii
Barcroft Media
By BELLA BATTLE
Published: Today at 19:24

A FALLING surfer is dwarfed by a 30ft wave in these incredible wipeout pictures.
In another shot a surfer hangs 50ft above the ocean seconds after losing his board.
The amazing photos show even some of the world's best surfers are no match for the awesome power of the sea.
Riding high … a surfer gets ejected at the top of a wave in Hawaii
Barcroft Media
Keen surfer Brian Bielmann captured the wipeouts during 35 years of taking surf pictures for a living.
The 54-year-old Hawaiian said: "While riding huge waves, which can measure up to 50 feet, surfers can get sucked from the top.

Caught on camera … Brian Bielmann captures a surfer's tumble
Barcroft Media
"You're going over with the lip and it is just like going over a waterfall.
"There's a feeling of weightlessness, and then the violent penetration where you're being ripped in all directions, completely beyond your control…
for all the rad photos go here:

http://www.thesun.co.uk/sol/homepage/features/4250964/Amazing-wipeout-photos-make-a-splash.html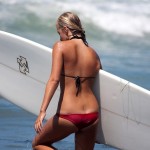 Become A Sponsor!
If you have a product or service that is a good fit for our surf community, we have opportunities for you to sponsor this blog!
Download our media kit now!