VIA – DAILY MAIL UK
Two men arrested for killing more than 500 sharks after they cut off their fins and dumped them back in the water
By Paul Thompson
PUBLISHED: 15:37 EST, 11 April 2012 | UPDATED: 15:37 EST, 11 April 2012
Wildlife officials have arrested two men for killing more than 500 sharks.
Agents who boarded their boat in Louisiana found 2,073 shark fins and 11 whole sharks.
The men, Hung Anh Tiet and Rick Nguyen, were arrested for the illegal activity of shark fining whereby the fins are removed and the bodies thrown back into the sea.
Ill-gotten: Hung Anh Tiet and Rick Nguyen were caught by Louisiana wildlife officials with 2,073 shark fins — far more than legal fishing limits allow
Shark fins are the most profitable part of the predator fish and prized in China and other Far East countries as a delicacy.
Officials said the two men had 12 bags containing 2,073 shark fins when they boarded their vessel Lady Lyanna near the Delta National Wildlife Refuge in Venice, Louisiana.
Fishermen are allowed a daily catch limit of 33 sharks.
Tiet, 29, and Nguyen, 37, face fines totaling more than $26,000 for going over the legal limit on shark fishing.
They could also be jailed for up to two months…
for the full article go here:
http://www.dailymail.co.uk/news/article-2128375/Two-men-arrested-killing-500-sharks-cut-fins-dumped-water.html?ito=feeds-newsxml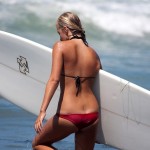 Become A Sponsor!
If you have a product or service that is a good fit for our surf community, we have opportunities for you to sponsor this blog!
Download our media kit now!