VIA – IVG
Andora, capitale del surf: titolo mondiale all'americano Taylor Jensen
Articolo n° 205864 del 20/11/2011 – 16:13


Andora. Va all'americano Taylor Jensen il podio più alto del Bear Pro 2011, la gara internazionale di surf che ha coronato il campione mondiale della disciplina longboard. Il tutto sul palcoscenico costituito dal mare e dalla spiaggia di Andora, diventata nel giro di 12 ore appena la capitale mondiale di questo sport.
Per mancanza di onde a Levanto, la località designata ad ospitare il grande evento nel fine settimana, il contest si è infatti spostato in tempo record a ponente, nell'altra località culto della Liguria per i surfisti. Così il litorale andorese si è trasformato, imprevedibilmente, in una mini California popolata di tavole e atleti di richiamo internazionale.
"E' andato tutto benissimo – dice entusiasta Paolo Colombini dei Bagni Tortuga di Andora – Anche gli atleti sono rimasti stupiti della nostra efficienza nell'aver saputo organizzare una gara internazionale in così poco tempo. E hanno anche apprezzato la cucina ponentina".
"Una giornata caratterizzata da onde che hanno permesso alla competizione di svolgersi nel migliore dei modi, davanti ad un pubblico folto – continua Colombini – Siamo emozionati per il fatto che, per la prima volta, un titolo mondiale di surf sia stato assegnato ad Andora".
Tra i concorrenti, campioni del calibro di Duane De Soto, l'australiano Harley Ingleby, campione mondiale nel 2009, ed il francese Antoine Delpero, numero cinque in classifica, che hanno cavalcato le onde insieme al neo vincitore Taylor Jensen.
"Per noi è sempre eccitante stare nell'acqua. Un plauso va agli italiani che dimostrano di voler promuovere questo sport. Spiace che madre natura abbia modificato le previsioni iniziali, ma speriamo che la prossima volta si possano avere onde anche nel levante" commenta il campione del mondo in carica, l'hawaiano Duane De Soto…
For the full article and more photos go here:
http://www.ivg.it/2011/11/andora-capitale-del-surf-titolo-mondiale-allamericano-taylor-jensen/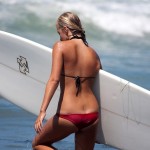 Become A Sponsor!
If you have a product or service that is a good fit for our surf community, we have opportunities for you to sponsor this blog!
Download our media kit now!