VIA – SIGN ON SAN DIEGO
Dead 50-foot whale beaches at Point Loma
Saturday, November 19, 2011

A dead whale was discovered washed up in a cove on the north side of the property of the Point Loma wastewater treatment plant sometime Saturday. John Gastaldo/Union-Tribune — John Gastaldo
POINT LOMA — A 50-foot dead fin whale washed up at Point Loma Saturday afternoon near the city sewage treatment plant, providing observers with a rare, full-bodied look at a mammal known as the "greyhound of the sea" because they can swim so fast.
Fin whales, which can weigh up to 70 tons, usually reveal comparatively little of their long, sleek frame when they're at the surface.
The cause of the whale's death was not immediately known.
The fin is the second-largest species of whale, after the blue whale, and can grow to about 75 feet in the northern hemisphere, according to the National Oceanic and Atmospheric Administration. The mammals, which can swim at least 23 mph in short bursts, are on the U.S. Endangered Species List.
Workers at the Point Loma Waste Treatment Plant on Gatchell Road, near the southern tip of the peninsula, notified the Coast Guard about 2 p.m. that a large whale was beached in a nearby cove, in about four feet of water, San Diego Lifeguard Lt. Nick Lerma said.
Lerma said it appeared that the whale had not been dead long, as it was not decomposed.
The Coast Guard contacted NOAA and a representative of the federal agency went to the site and identified the whale as a fin, Lerma said.
He said lifeguards were called about 4:30 p.m. to help figure out what to do with the carcass, and once the sun set, they decided to attempt nothing in the dark.
NOAA will likely try to determine what killed the whale, and…
For the full article go here:
http://www.signonsandiego.com/news/2011/nov/19/dead-whale-beaches-point-loma/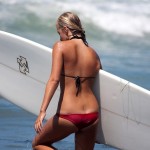 Become A Sponsor!
If you have a product or service that is a good fit for our surf community, we have opportunities for you to sponsor this blog!
Download our media kit now!