VIA – ETURBO NEWS
Maritime Safety Advisory Issued
Emergency meeting held to address freak shark accident in Praslin
Aug 16, 2011
The Seychelles Minister for Home Affairs, Environment, Transport & Energy, Mr. Joel Morgan, chaired an emergency meeting last night in his office to consider the unfortunate freak shark accident off the island of Praslin, which has resulted in the following Maritime Safety Advisory to be issued.
The meeting expressed their sympathy to the families of the two visitors who had lost their lives following the freak shark attack off Anse Lazio beach at Praslin. The beach, considered as one of the best beaches in the world, had the unfortunate mishap of being visited by a shark, which has resulted in two accidents virtually unheard of previously in Seychelles.
"With immediate effect, the Seychelles Maritime Safety Administration has issued a temporary ban on swimming or entering the water in certain bays of the island of Praslin and islands off the coast of Praslin following two fatal shark attacks this month in the northwest area of the island.
People should not swim or enter the water in the following areas:
1. Anse Lazio – patrolled by the Police and National Parks Authority
2. Anse Georgette, Petite Anse Kerlan, and Grand Anse Kerlan – patrolled by Lemuria Resort
3. St. Pierre island – patrolled by National Parks Authority
4. Curieuse island – patrolled by National Parks Authority
This measure will be enforced for a certain period in order to search for the shark and remove it from the water.
For all other areas of Praslin and La Digue, people should swim close to the beach, within a short distance, and not in deep water.
The Seychelles National Parks Authority in collaboration with the Praslin Development Fund, Seychelles Coat Guard, the Police, the Department of Environment, and the Seychelles Fishing Authority, as well as several private boat owners and Seychellois fishermen will be undertaking continuous patrols, research, and fishing activities in order to capture the shark.
The Maritime Safety Administration will also reinforce the ban of dumping of waste from yachts and other boats, which have been reported in some of these areas.
For the full story go here:
http://www.eturbonews.com/24647/emergency-meeting-held-address-freak-shark-accident-praslin
For article on first attack go here:
http://surftweeters.com/french-diver-dies-after-suspected-shark-attack-in-seychelles/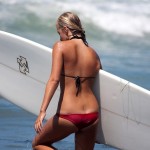 Become A Sponsor!
If you have a product or service that is a good fit for our surf community, we have opportunities for you to sponsor this blog!
Download our media kit now!