So sad 🙁
VIA – HUFFINGTON POST

Klamath River Whale Dies After Months Stranded In Northern California


JASON DEAREN and JEFF BARNARD 08/16/11 01:59 PM ET AP
A 45-foot gray whale that delighted people for more than a month after taking up residence in Northern California's Klamath River died Tuesday after beaching itself on a sandbar.
The whale drew big, curious crowds since swimming into the river with its calf in late June, taking refuge in fresh water for an unknown reason while migrating north from the birthing grounds off Baja California. Scientists said it may have been escaping from killer whales.
Efforts to drive it back to sea with calls of killer whales played upriver and other measures could not persuade the whale to leave, but the calf swam out to sea on July 23, about the right time for it to wean and go off on its own.
But the mother remained, sometimes feeding on invasive species of clams and snails in the mud of the river bottom, blowing great geysers of air and water out of her blowhole, and spending much of its time within sight of people who lined a U.S. Highway 101 bridge over the river.
Its behavior enthralled people who stood in the river playing violins, paddled out to the whale in canoes playing flutes, and jumped out of kayaks to swim with the huge animal.
"It's very sad," said Thomas O'Rourke, chairman of the Yurok Tribe, whose reservation lines the banks of the river south of Crescent City, Calif. "It started to become a part of the community."
The while died about 4 a.m. as it was observed by a number of scientists. A cause of death will be determined in a necropsy after researchers move the marine mammal.
For the full story go here:
http://www.huffingtonpost.com/2011/08/16/klamath-river-whale-dies_n_928392.html?ir=Green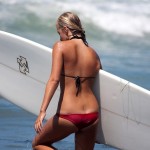 Become A Sponsor!
If you have a product or service that is a good fit for our surf community, we have opportunities for you to sponsor this blog!
Download our media kit now!