VIA – CARLSBAD PATCH

Art and Soul at the Sacred Craft Surf Expo

Photo: George Gall of Plus One Surfboards at the Shape-off. Credit: Serge Dedina
Surfers, board builders and artists come together to celebrate the surfboard at the Del Mar Fairgrounds.
By Serge Dedina
10:45am
Upon entering Exhibition Hall at the Del Mar Fairgrounds for the Sacred Craft Consumer Surf Expo, I ran into San Diego surfing pioneers Jack "Woody" Ekstrom of Leucadia and Carl Knox of Carlsbad.
Both are regular attendees of the Sacred Craft that is under way this weekend (and continues from 10 a.m.-4 p.m. Sunday). Expo organizer Scott Bass estimates about 3,500 will attend the two-day event.

Photo: Big wave charger Greg Long. Credit: Serge Dedina
I was a friend of and have written about big-wave Imperial Beach surfing legend Dempsey Holder, an old surfing buddy of Woody and Carl.
"I surfed with Dempsey back in 1954," said Knox.
Woody's brother Carl (the brothers grew up down the street from Windansea in La Jolla), an innovative surfboard designer, was honored at the Expo in a Tribute to the Masters Shape-off.
The developer of the off-kilter asymmetrical surfboard design, Ekstrom selected esteemed shapers such as Matt Biolos, Tim Bessell, Ryan Burch, George Gall, Wayne Rich and Daniel Thomson to compete for a $1,000 prize by shaping their own asymmetrical surfboard blanks.

Photo: Sam George at the antique surfboard appraisal booth. Credit: Serge Dedina
The final products will be judged by Rusty Preisendorfer, Stanley Pleskunas and Carl himself.
"It is like judging art," Ekstrom said. "These guys are like sculptors."
I joined Kevin Stuckey of Imperial Beach and his son Kevin Jr. to observe George Gall of Point Loma's Plus One Surfboards fine-tune his asymmetrical design in the see-through shaping bay complimented by its own mini-grandstand.
"He's also my shaper," Stuckey said.
With more than 150 booths representing surfboard shapers, surf artists and blank companies, Sacred Craft is all about the surfboard.
The economic downturn combined with the threat of mass-manufactured boards in China and Taiwan has made it harder than ever to make a living selling handcrafted surfboards.
But no one makes surfboards expecting to make money.
Coronado's Dan Mann was hawking his innovative inCide foam blank with a carbon fiber core.
"I just want to help make surfboards better and better," Mann said. "We haven't even scratched the surface of what is possible."
"For me, the Sacred Craft is a great event," said Mann. "It gets users and manufacturers face to face."
"Handcrafted surfboards are a niche market," said Joe Virgilio of Plus One. "Sacred Craft brings the community together."
For the average surfer, Sacred Craft provides an opportunity to catch a glimpse of surfing legends past and present.
Surfing ambassador and Hall of Famer Rob Machado was on hand watching a glassing demonstration.
Big-wave charger Greg Long autographed posters for a long line of admirers. Mickey Munoz, surfing's version of Forrest Gump, signed copies of his new book, "No Bad Waves," at the Patagonia Booth.
And 1960s surfing stylist John Peck wandered in while I was leaving.
A very popular part of the expo was the Collective Surfboard and Memorabilia Appraisals, a surfing version of the PBS program Antique Roadshow.
I found Dave Lopez and his teenage son Loukas there waiting to have a couple of 1970s-era single fins evaluated.
Dave was admiring a 1976 7'8" mint condition Gerry Lopez Lightning Bolt rounded pintail gun that was on exhibition.
"That is such a nice board," said Lopez who spent years cutting his teeth on Oahu's North Shore…
For the full article and all the photos go here:
http://carlsbad.patch.com/articles/art-and-soul-at-the-sacred-craft-surf-expo#photo-8055733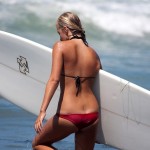 Become A Sponsor!
If you have a product or service that is a good fit for our surf community, we have opportunities for you to sponsor this blog!
Download our media kit now!