VIA – SANTA CRUZ SENTINEL


Gretchen Wegrich, Stoked and Broke: Almost famous: Local surfers/filmmakers pair up in surf movie competition
Posted: 10/09/2011 01:30:43 AM PDT
Several Saturday nights ago, I found myself on the set of Michael Jackson's "Thriller" music video. Just like my Hollywood fantasies, there were actors wandering around reciting their lines, stressed out production assistants running by with extension cords and coffee, and makeup artists wielding hairspray at the zombies' teased hair.
What does this have to do with surfing? Just wait.
Michael Jackson himself was dressed in his signature red leather jacket, black curls glistening under the bright lights. His vampire fangs were clearly visible through the billowing mist — oh, and he was wearing board shorts and flip flops.
Okay, so I wasn't technically on the set of a Michael Jackson music video. I was in Santa Cruz, on location outside the NHS skateboard factory. MJ was actually professional surfer Matt Myers, who happens to be my boyfriend. The zombies were the uber-talented No Limits' dance crew, who gave up their weekend night and learned the "Thriller" dance in one day.


This entire production was in progress because of a surf filmmaking contest called Innersection. After traveling to Mexico and Bali over the summer, Myers had his surf clips covered. Now all that was left to film was his skit, a remake of the classic Michael Jackson music video.
UC Santa Cruz film grad Pedro Delbrey was running the show as director and producer.
"Quiet on the set!" Delbrey yelled, snapping his fingers at the fog machine technician. "Dancers, eady! And… action!"
Oh, the lifestyles of the stoked and broke.
Shooting for the stars
Along with the "Matt Myers' Thriller" film, this season's Innersection contest also features the talented Austin Smith-Ford, who paired with surfer and filmmaker Kyle Buthman, as well as an entry by surfer Zoltan Torkos and his camera-wielding brother Rigo.
Together, there are 38 entries in this fourth round, but its safe to say that the three Santa Cruz videos do their city's informal motto proud and Keep Santa Cruz Weird.
Innersection is a little confusing, but imagine something like "The X-Factor" for surfing. The year-long contest is divided into four seasonal rounds. Each round whittles down to the top four entries, chosen by popular vote. A fifth wild-card entry is chosen each round by filmmaker and producer Taylor Steele, who is kind of like the George Lucas of surf movies.
At the end of the year, the top 20 parts are combined into a full-length surf film that Steele produces and the makers of the best video by popular vote are awarded $100,000.
Other locals who made it in earlier rounds include Nat Young with filmmaker Ryan Moss, whose video reached the final four, and Josh Mulcoy with filmmaker Zack Hill, whose video earned Steele's wild-card billing.
The democratic process, though, is what makes Innersection stand apart from more traditional surf movies, which typically feature a hand-picked cast of the world's top surfers in perfect surf around the world.
"This round has tons of eager up-and-coming surfers that are giving it a go to make their presence felt," said Myers. "It's basically an American Idol for surfers. Anyone can enter. You're just putting yourself out there for the world to choose who gets to be the winner."
The finished product is a kaleidoscope of styles.
Although it lacks flow, said Myers, "Each and every section is produced by a different surfer and filmmaker with a different taste. It's a mixed bag of tons of different flavors."
Chasing the dream
Like one of the Penny Ice Creamery's really out-there flavors, Austin Smith-Ford and Kyle Buthman decided that comedy — and keeping it weird — was the key to success.
Like Myers' short, Smith-Ford's entry features more than just surfing. In the film, Smith-Ford builds a teleporting machine out of odds and ends in his bedroom, then transports himself and his surfboard to Mexico and Bali.
Smith-Ford's surfing is cutting-edge and exciting to watch. But it's his knack for quirky comedy that he has received the most attention for.
"We were going for a theme that everyone could relate to," explained Smith-Ford. "You're in town and you really want to be somewhere else in the world, but you don't really have the means to get there."
This is Smith-Ford and Buthman's second foray into Innersection fame. In 2010, Innersection's inaugural year, Buthman filmed and edited an entry featuring Peruvian surfer Gabriel Villaran, which went on to make the final movie. This year, Buthman teammed with Smith-Ford, and also has an entry with Hawaiian surfer Kiron Jabour.
Smith-Ford's 2010 entry finished seventh, just two spots short of making the cut, so it's safe to say he's hungry for victory this time around.
"I think we definitely have better waves and better surfing in this one," said Smith-Ford, whose video is currently ranked second out of 38 entries. "You never know until the last little thing goes off, you could just get a flurry of votes."
His film this year is the sequel to last year's short.
Dark side of the zoom lens…
For the full article go here:
http://www.santacruzsentinel.com/sports/ci_19074725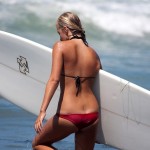 Become A Sponsor!
If you have a product or service that is a good fit for our surf community, we have opportunities for you to sponsor this blog!
Download our media kit now!