Dude no way…
VIA – KTLA


Artist creates surfboard out of beer cans
By Brian Flores
8:23 a.m. PDT, October 10, 2011
SAN DIEGO – A local artist has created a surfboard out of beer cans.
Artist Rich Morrison said he came up with the idea after having drinks at a bar in Pacific Beach. The artist was looking for inspiration. He said it was a perfect combination to combine two things he loves, beer and surfing.
"It was kind of a fun project. It just kind of happened," he said.
Morrison used 72 empty beer cans, which he said was mostly given by bar employees. Along with some creativity, he said he created art with a functional surfboard.
Sign up for KTLA 5 Breaking News Email Alerts
"Basically it's just industrical strength glue and clear duct tape. You gotta have clear duct tape as a surfer. And I just manhandled it into this shape, put it out on the floor, and just glued it all together. There's two wooden stringers. It's fiberglassed in resin," he said.
Morrison said along with a friend, the board took about a week to build. But the main question was, how would it ride ?
Morrison took it out to Black's beach during the summer.
"When I rode it, it was taking on water at Blacks so it started sinking," he said…
For the full article and amazing video go here:
http://www.ktla.com/news/landing/kswb-artist-creates-surfboard-out-of-beer-cans-20111007,0,3815815.story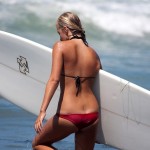 Become A Sponsor!
If you have a product or service that is a good fit for our surf community, we have opportunities for you to sponsor this blog!
Download our media kit now!