VIA – HERALD SUN
VIDEO: Shark may have taken WA swimmer, police
Perth beach closed as police hunt for suspected shark victim
The Australian, Perth Now
October 11, 2011 11:35AM
A WHITE pointer shark is suspected of attacking a man missing off a Perth beach, after police found his bathers.
.Police divers found the man's bathers on the bottom of the ocean floor off Cottesloe yesterday afternoon, which were later identified by the 64-year old's distressed wife.
Police Senior Sergeant Denise Grant told ABC radio that Bryn Martin disappeared while swimming toward a buoy.
Snr Sgt Grant says police divers found Mr Martin's torn trunks and shark experts agree the tearing is consistent with a white pointer attack.
Australia's last fatal shark attack was in April when a surfer lost both legs off a beach south of Perth.
The police chaplain was consoling the family.
The Special Air Service, water police and volunteers had been conducting a land, air and sea search along a 15.8km stretch from Leighton Beach in Perth's south to Scarborough Beach in the north.
Start of sidebar. Skip to end of sidebar.
End of sidebar. Return to start of sidebar.
An unconfirmed shark sighting yesterday morning at Trigg, about 16km north of Cottesloe, sparked fears of a possible attack.
But reports the man had a heart problem led to speculation he may have got into difficulty and drowned.
Lifeguards had just begun their 8am shift at Cottesloe when he was last seen by a friend standing on the shore, according to Cottesloe mayor Kevin Morgan.
The man was estimated to have been about 350m from the shore at about 8.10am and heading to a buoy that he rounded each morning.
In 2000, businessman Ken Crew was fatally attacked by a shark at North Cottesloe, prompting summer shark patrols by air.
Yesterday a Surf Life Saving WA spokesman confirmed patrols had not yet started this year, because the helicopter that would conduct them was still en route from New Zealand.
The man's wife raised the alarm after he failed to meet his family for breakfast as planned.
Cottesloe Beach will be closed until at least Wednesday as police search for his remains.
Police this morning confirmed that the search for missing man Bryn Martin is no longer a rescue effort but a recovery operation, Perth Now reports.
Members of Mr Martin's family will address the media at Cottesloe Beach later this morning.
Mr Martin was a successful businessman and proponent of a private port in Kwinana.
Duty patrol commander Neil Blair said Mr Martin's wife had confirmed the black Speedos were the type of swimmers her husband had worn.
"Fisheries experts have viewed the bathers and were of the opinion the damage is consistent with that a white pointer shark could cause," he said tonight.
Mr Martin was last seen by a friend swimming out past the pylon in front of the Indiana Tea Rooms at about 8am on Monday morning. He was a couple of hundred metres offshore when he disappeared.
Swimmer and businessman
Mr Martin is the chief executive of James Point, a company appointed by the State government to build private port facilities in Kwinana.
According to the James Point website, he is the company's chief executive and has spent several years in talks with the State Government to get the project underway.
A keen swimmer, Mr Martin has competed in the Rottnest Channel Swim and set the record for the oldest male duo swimmer in 2002.
Cottesloe beach closed
Police said it was too early to suggest a shark attack and that rescuers were exploring all options. Cottesloe beach, which was calm today with cloudy waters, has been closed.
Police Senior Sergeant Denise Grant said officers would continue searching the water until sundown, but held grave fears for the missing man's safety.
"Given that this gentleman has been missing since 8.10am, Police are very concerned for the welfare of this man," Sgt Grant said.
"Hopes are definitely fading that we will find him safe, however, we don't give up hope and we will remain in the area, as will our Water Police, Police Air wing and ATV vehicles searching the beachfront until sundown."
The search will continue tomorrow morning.
Police are yet to confirm reports the man has a heart condition and have not ruled out a shark attack.
The Defence Force is assisting with the search using ATV vehicles, while water police and local surf lifesavers scour the ocean on boats and jet skis.
"He was swimming by himself at the time, however he was down at the beach with a friend," Sgt Grant said.
"His friend was entering the water, he saw him and about 10 minutes later he couldn't see him anymore."
Sgt Grant said police would patrol the beach overnight and continue their search of the water at first light.
Cottesloe Surf Lifesaving have issued an email to members advising them that the missing man is not a member of the club.
Family and friends of the man are waiting anxiously under the Indiana Tea House.
A Surf Life Saving WA helicopter had not been monitoring Cottesloe Beach this morning as it does not fly during weekdays until mid-December.
Cottesloe Beach was closed in November last year after several sightings of a 2.5m shark that was attracted to baitfish in the area.
The shark was first spotted at 11am and again at 3.30pm on November 16. It came just a week after young tour guide Elyse Frankcom was bitten by a shark off Garden Island.
FATAL SHARK ATTACKS IN WA
September 4, 2011: Kyle Burden was killed while body boarding with friends at Bunker Bay, near Dunsborough, in Western Australia.
August 2010: Nicholas Edwards, 31, fatally mauled at Gracetown, near Margaret River.
December 2008: Port Kennedy fisherman Brian Guest, 51, taken by a giant white pointer while snorkelling for crabs in about 5m of water near his beachside home.
March 2005: A 6m white pointer killed boat skipper Geoffrey Brazier, 26, while he snorkelled off the Abrolhos Islands.
July 2004: Carpenter Brad Smith, 29, was attacked and killed by two sharks while surfing off Gracetown. …
For the full article go here:
http://www.heraldsun.com.au/news/man-missing-off-cottesloe-beach/story-e6frf7jo-1226163781728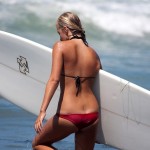 Become A Sponsor!
If you have a product or service that is a good fit for our surf community, we have opportunities for you to sponsor this blog!
Download our media kit now!