VIA – BLEACHER REPORT
ASP World Surfing Tour Comes to San Francisco November 1st-12th

Attention folks: Kelly Slater (former "Baywatch" co-star/current Pro Surf King) is on his way to the Sunset District of San Francisco. He'll arrive in roughly 13 days (Nov. 1) and he plans on staying for a couple of weeks depending on the weather. Kowabunga?
Yes, this is kind of a big deal. Especially for a city in which a day at the beach usually consists of a down jacket, a cup of joe and little else. Slater, as you may have heard, holds his sport's honor in being the "Michael Jordan of surfing."
The man is now 39-years-old and has accumulated 10 ASP (Association of Surfing Professionals) World Tour titles over his long and distinguished career. Come early next month, Slater will likely seal his 11th World Title on the shores of the San Francisco Bay. Turns out, you're invited as well, free of charge.
The ASP World Tour consists of 11 events around the world. This year, San Francisco was a surprise selection to be one of the hosts. SF will be the 10th stop on this year's tour that has been zigzagging across to the globe to places like Portugal, South Africa and French Polynesia. Somehow, San Francisco got looped into this list of exotic locales, but I suppose nobody is complaining…
For the full article go here:
http://bleacherreport.com/articles/901002-asp-world-surfing-tour-comes-to-san-francisco-november-1st-through-the-12th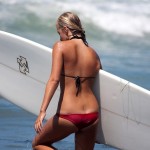 Become A Sponsor!
If you have a product or service that is a good fit for our surf community, we have opportunities for you to sponsor this blog!
Download our media kit now!