VIA – WASHINGTON TIMES

Life of Jay Moriarity celebrated in new surf film
Tuesday, October 18, 2011 – Sportfolio by Jill K. Robinson
HALF MOON BAY, Calif., October 18, 2011—It's been 10 years since Jay Moriarity's death in a free-diving accident in the Indian Ocean, but the phrase "Live like Jay" is still heard on a regular basis in the Northern California surfing towns of Santa Cruz and Half Moon Bay.
The young surfer with an infectious smile and good-hearted attitude is the subject of an upcoming film, "Of Men and Mavericks," which will focus on the story of Moriarity's quest to surf Northern California's dangerous wave, and the local legend who became his mentor.
The film is directed by Curtis Hanson and stars Gerard Butler as Moriarity's mentor, Rick "Frosty" Hesson, and Jonny Weston as Jay Moriarity. Other cast members include Elisabeth Shue (as Christy Moriarity, Jay's mother), Abigail Spencer (as Hesson's first wife, Brenda Hesson) and Leven Rambin (as Moriarity's wife, Kim).
Mavericks surfers such as Greg Long, Peter Mel, Zach Wormhoudt and Jeff Clark—the original Mavericks surfer, who rode the wave alone for 15 years—will also be included in the film.
Walden Media, the production company for "Of Men and Mavericks," began filming this month, on the eve of the big wave's season—which generally runs from early November through March.
Moriarity is still missed here, and it's one reason why Friday's recreation of his memorial paddle out in Santa Cruz (shortly after his death, the day before his 23rd birthday in June 2001) drew hundreds of surfers to be part of the event. After filming wraps in Santa Cruz, crews move on to Half Moon Bay for Mavericks footage. Filming is scheduled to wrap up in December, 2011…
For the full article go here:
http://communities.washingtontimes.com/neighborhood/sportfolio/2011/oct/18/life-jay-moriarity-celebrated-new-surf-film/

For more articles on 'Men of Maverick's' and Gerard Butler, go here:
http://surftweeters.com/?s=gerard+butler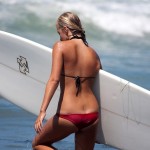 Become A Sponsor!
If you have a product or service that is a good fit for our surf community, we have opportunities for you to sponsor this blog!
Download our media kit now!