VIA – RED BULL
ASP World Tour: Here Come The Girls | Stephanie Gilmore Talks
Getty Images
by Redbull.com, Feb 18, 2012
With the ASP Women's World Tour beginning next weekend in Queensland, Stephanie Gilmore looks ahead to a fierce season-long battle with Red Bull wave rider and 2011 champion Carissa Moore…
After losing out on last year's title to our very own Carissa Moore, Australia's four-time ASP Women's World Champion Stephanie Gilmore will be hoping to get off to a flying start at the Roxy Pro Gold Coast – the first of the seaon's seven ASP Women's World Title meets.
The 24-year-old, who's been doing some charity work in Senegal alnogside her training, is raring to go. "I want to be the best," she says, "I feel like I've already accomplished more than I ever thought I would and I'm proud of that. There's nothing forcing me to compete, I do it because I enjoy it and because I want to win. If you're winning events, you're winning world titles, so yes, the title is still very much the goal."
Gilmore faces a tough task in reclaiming top spot, though. This year's ASP Top 17 is the strongest it's ever been, says Gilmore, and no-one is safe with 19-year-old Carissa Moore around. The Red Bull surfer made it to an impressive six finals last year – not bad when there were only seven meets…
For all the info go here:
http://www.redbull.com/cs/Satellite/en_INT/Article/ASP-World-Tour-Here-Come-The-Girls-Stephanie-021243165105096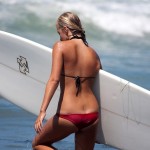 Become A Sponsor!
If you have a product or service that is a good fit for our surf community, we have opportunities for you to sponsor this blog!
Download our media kit now!