VIA – THE BEACH SIDE RESIDENT
Boardrider of the Month: Lea Taylor
Scooter Newell
Boardrider of the Month: Lea Taylor
Interview by Scooter Newell
Lea Taylor has been skateboarding and surfing since she could crawl. I remember her bomb-dropping little ledges on her skateboard when she was only 3-years-old and doing whatever it took to keep up with the boys at the Skatepark that were three times her age.
Today at the Skatepark there are no boys — of any age — who can keep up with her. She whips through the pockets at 100mph and has one of the best "cradle-carves" out of anyone who has ever skated here. She will also throw serious chunks at you in the water while practicing for one of her upcoming surf contests. Lea is an all-around threat on any board and a great young ambassador for surf and skate.
Meet February's "Boardrider of the Month," Lea Taylor.
Name: Lea Taylor
Age:15
Hometown: Cocoa Beach
Stance: Regular
Current skate set-up: Hoopla skateboard, Bones wheels, and Independent trucks
Current surfboard: Pelican Surfboards shaped by Todd Holland
What did you learn first, surfing or skateboarding? And how old were you when you started?
I learned to surf and skate around the same time, mainly surfing though, because Adam (my older brother) competed in surfing in the beginning a little bit more than skating. But mainly I started skating when I was two and entered my first skate contest when I was four. I entered my first surf contest when I was five. I learned how to surf once I could swim. I was 1-year-old!
What is your favorite thing to skate?
My favorite thing to skate is a bowl or a vert ramp. Anything I can go fast in, I'm all over it!
What is your favorite surf spot?
My favorite surf spot to surf is Sebastian Inlet. But my dream place to surf would be , Aquadilla, Puerto Rico.
What's up with competitions? Are you competing anytime soon in surf or skate?
I compete in all the local contests like Grind For Life, but sadly, I wish there was more going on in girls' skateboarding. I am competing in surfing a lot. I do NSSA, ASF, ESA, etc…
You just started a new school. What do you like most about it?
I like my new school because…
For the full article go here:
http://thebeachsideresident.com/2012/02/boardrider-of-the-month-lea-taylor/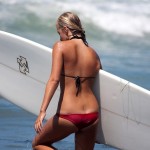 Become A Sponsor!
If you have a product or service that is a good fit for our surf community, we have opportunities for you to sponsor this blog!
Download our media kit now!