VIA – BUSINESS LIVE
Image: Picture: FREDLIN ADRIAAN
SURF'S UP … Eastern Cape surfer Shaun Payne entertains the crowds at yesterday's Xcel surfing competition in Jeffreys Bay. He defeated his brother, Ryan, to clinch the only wildcard entry spot for next month's international Billabong Pro competition.
Australia's Billabong shares wipe out after fund raising
Market cap less than one-third of previous buyout offer, investors fed up with rush of share sales -analyst
Shares in Australia's surfwear retailer Billabong International slid 36 percent to a record low when they resumed trading on Monday after a heavily discounted share sale, as investors bailed out of a company they fear has lost its way.
The $225 million rights issue, undertaken to ease Billabong's debt burden and which came with a fresh profit warning, has taken the company's market value to less than a third of a rejected $841 million buyout offer that was on the table in February.
Institutional investors took up only 79 percent of their entitlements to receive six new shares for every seven existing shares – expressing their disappointment with company's lack of direction as well as exasperation with a rush of share sales in recent weeks.
"Every single company is coming out with the begging bowl, investors are getting fed up," said Macquarie Equities division director Lucinda Chan.
Analysts said investors are paying a high price for the strain put on Billabong's balance sheet from a string of acquisitions at the top of the market and the chain could be vulnerable to a fresh private equity approach.
Billabong has seen sales decline in Europe, Canada and Australia as consumer confidence ebbs. To restructure, it has sold its highly profitable Nixon watch brand and is closing up to 150 underperforming stores out of the group's 670.
Management is also in turmoil. Chief executive Launa Inman has been in the job just two months and chairman Ted Kunkel plans to resign in October.
"I don't think there is any faith in the business," said Peter Esho, chief market analyst at City Index, adding that the selling on Monday was probably from investors who did not participate in the capital raising dumping their shares.
"It's not a Nike or a Louis Vuitton. In terms of brands it is not at the same level as other brands which have managed to restructure and reinstate a valuation multiple," he said.
Billabong's shares were trading at A$0.935 a share, down …
For the full article go here:
http://www.businesslive.co.za/world/int_companies/2012/06/25/australia-s-billabong-shares-wipe-out-after-fund-raising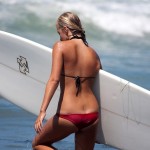 Become A Sponsor!
If you have a product or service that is a good fit for our surf community, we have opportunities for you to sponsor this blog!
Download our media kit now!