VIA – IRISH CENTRAL
Irishman survives after great white shark attack in Australia
"All I could see was a great big grey shape" says victim
By
KERRY O'SHEA,
IrishCentral Staff Writer

A shaken Martin Kane talking about his shark attack
Photo by The Australian
A Phibsborough, Dublin native, Martin Kane, 61, is feeling lucky after an intense encounter with a great white shark off the coast of Australia on Wednesday morning. While paddling on a surfski with a group of people, Kane's craft was attacked by the shark.
Kane, who emigrated to Perth in 1966 with brother-in-law Jack Cullen, spoke with the Irish Independent following his dramatic encounter with the great white shark during his early morning foray into the Australian waters.
"A school of dolphins came along, right in front of us," said Kane. "The other guys slowed down to have a look. I kept going and I was about 50 metres ahead of the pack. It was a beautiful morning and I turned my head to the left to have a look at the sunrise."
"I normally say a prayer, and this morning was like a spiritual experience. Then I got a cold feeling and I picked up the pace and started paddling again, and almost as soon as I did there was an almighty crash. All I could see was a great big grey shape and I was trying to think to myself what could have hit me? Those seconds where I picked up the pace probably saved my life," he said.
"When the shark came out of the water its jaws went around the end of the ski and bit down, which caused it to explode, because the ski is a sealed container. I've seen and heard car crashes and that is exactly what it is like."
"I came up out of the water and the water was a mess, its head and tail were thrashing around and the ski was going up in the air and around. . . I swam away and as I did, my mate came up to me and said 'Hop up onboard Marty, we'll get you to the beach'.
"Trying to get myself across my mate's ski — which is very thin and long and unsteady — wasn't easy, I almost toppled him. It was almost impossible."
"The shark was still chomping on the ski when we hit the beach but I would not have been able to swim fast enough to get away," said a thankful Kane.
Kane, who…
http://www.irishcentral.com/news/Irishman-survives-after-great-white-shark-attack-in-Australia-160218405.html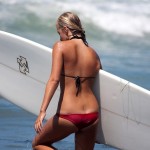 Become A Sponsor!
If you have a product or service that is a good fit for our surf community, we have opportunities for you to sponsor this blog!
Download our media kit now!