VIA – MARGARET RIVER MAIL
Drift movie stuntwork for surfers
TIM CARRIER JANINE BEACHAM
24 Aug, 2011 02:49 PM
WHEN the producers of Drift asked one of Yallingup's most exciting young female surfing talents to appear in their film, as a 'surf double', it was a chance too good to pass up.
Seventeen-year-old Mikaela Greene, who is WA's under-18 girls surfing champion, didn't apply to be in the movie because of Year 12 commitments at Margaret River Senior High School.
However, due to her similarity to one of the actresses in Drift, the producers thought she would the ideal surfer for the role and tracked her down.
Photo: STUNT?DOUBLES:? Mikaela Green of Yallingup was thrilled to stunt double for an actress in the upcoming Drift film.
Mikaela said she was over east supporting sister Eliza in a surfing competition when she got the call from the Drift producers.
"I was really ecstatic when they asked me and it was too big an opportunity to pass up," she said.
"I was really looking forward to it, because I knew it was going to be a great experience."
And, she said it lived up to expectations.
"The film crew was amazing – they made me feel like one of the team."
Mikaela said filming was done over a couple of weeks in various locations and that she was directed to do specific manoeuvres for the cameras.
Although, she said surfing in Drift was a bit different to what she was used to.
"Because the film was set in the early 70s I had to surf a single fin board, with no leg rope."
Drift is a film about the start of the surfing industry in WA and follows the story of two brothers trying to make a living from their passion for surfing.
Filming for Drift was done in the South West and the movie features several surf spots from around the region.
Photo: Jerome Forrest also had to get used to 70s style surfing when he filled in on some surf scenes.
A spokesperson for Drift said all the extras were cast for their look and Mikaela was also cast for her surfing ability.
"She was used as a 'surf double' for the character of Lani," they said.
For the full story go here:
http://www.margaretrivermail.com.au/news/local/news/business/drift-movie-stuntwork-for-surfers/2269485.aspx


For more articles about Drift, go here:

Drift hoped to boost South West tourism
http://surftweeters.com/avatars-sam-worthingtons-new-surf-movie-drift-hoped-to-boost-south-west-australia-tourism/
Avatar star drifts back home for surf epic
http://surftweeters.com/more-about-avatar-star-sam-worthingtons-new-11-million-dollar-70s-surf-film-drift/

Sam Worthington has spoken about his role in the WA-filmed Drift for the first time.
http://surftweeters.com/sam-worthington-talks-about-his-new-surfing-movie-drift-for-the-first-time/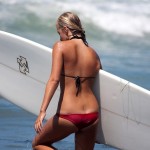 Become A Sponsor!
If you have a product or service that is a good fit for our surf community, we have opportunities for you to sponsor this blog!
Download our media kit now!