VIA – STUFF NEW ZEALAND

Photo: SORELY MISSED': Veteran broadcaster Graeme Moody drowned while surfing off the far north coast of New South Wales.
Broadcaster Graeme Moody dies in surfing accident
BRONWYN TORRIE
Last updated 05:00 25/08/2011
Veteran radio broadcaster Graeme Moody has died in a surfing accident in Australia, a day before he was due to fly home.
The Wellington-based sports reporter drowned while surfing off the far north coast of New South Wales about 2.45pm NZT yesterday.
Other surfers saw he was in trouble and brought him ashore unconscious.
Paramedics tried to revive him but he died at Angourie Beach, near Yamba.
His distinctive voice would be sorely missed by loyal listeners throughout the country, friend and fellow sports broadcaster Bryan Waddle told The Dominion Post last night.
"It's a massive shock because it just came out of the blue and he was happy doing something that he really loved. Every year he went to Australia for a holiday with his wife Bev."
The Wellington couple, who did not have children, were due to fly back today after a month-long trip to warmer waters.
Waddle said Moody was an easygoing man who loved life and having people around him.
"If there was any mischief to be a part of he was part of it. There's a lot of little things that probably aren't printable."
Moody was a sports reporter and commentator on NewsTalk ZB for 35 years covering major events, including the Olympic Games, rugby world cups, Commonwealth Games and America's Cup yachting.
He spent the 1990s commentating and travelling with the All Blacks but got sick of being away from home, he told the Wellingtonian newspaper last year.
"The touring life is a real limbo-land, airports, hotels, training, matches. It's quite a lonely existence," he said.
He relayed the devastating 1995 Rugby World Cup final from Ellis Park, which saw the All Blacks beaten by South Africa.
"It was a totally draining, almost surreal experience."
The Wellington College old-boy celebrated his 60th birthday last week.
"He biked to work every day. He looked like a 40-year-old.", Newstalk ZB Wellington operations manager Jason Pine said.
He described "Moodz" as an unassuming and humble bloke who was well liked and respected in all facets of his life.
"He had three loves his wife Bev, surfing and rugby. It just won't be the same without him. He was just so universally loved. He's just synonymous with rugby in particular."
He was lined up to cover the upcoming Rugby World Cup tournament.
"He just had an ability to paint a picture for an audience. He was able to bring excitment into things at the right time. He was just an absolute shining light in our office and is someone who will be missed terribly."
Moody's career highlight was reporting on the 1981 Springbok tour for Radio New Zealand.
"What a winter that was," he told The Wellingtonian.
"I was against the tour, but that opinion swung sometimes when I saw some of the things the protesters were doing. Overall though, you had to say it was bad for New Zealand – and rugby – and shouldn't have gone ahead."
For the full story go here:
http://www.stuff.co.nz/sport/5503262/Broadcaster-Graeme-Moody-dies-in-surfing-accident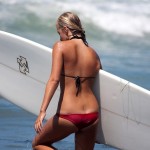 Become A Sponsor!
If you have a product or service that is a good fit for our surf community, we have opportunities for you to sponsor this blog!
Download our media kit now!