VIA – ABC NEWS AUSTRALIA


Drift hoped to boost South West tourism
Samia O'Keefe
Updated August 19, 2011 18:41:20
"The big difference in shooting here in the South West – compared to Hollywood – is that here every location is new and fresh, whereas there it is very hard to find new and interesting exterior locations.
"Consequently often you are creating new worlds in the studio with sets or travelling to find them."
Movie producer Tim Duffy is currently in Western Australia's South West shooting the feature film Drift.
Set in the 1960s and 70s, the movie is inspired by the rise of some of Australia's biggest surf brands from small backyard businesses to global enterprises.
It tells the tale of two brothers who turn their passion for surfing into one such global giant bland.
The movie stars a number of high profile Australians, including WA-raised actors Sam Worthington and Myles Pollard and South Australian Xavier Samuel.


In addition to the big names, Margaret River residents will no doubt recognise many faces when the final cut is unveiled with a number of locals being cast as 'extras' in the film.
ABC South West presenter and amateur actor Ron Tait worked as an extra on the film and says despite the apparent glamour of appearing in a multi-million dollar film, the novelty quickly wore off.
"In a day where the temperature didn't get above about 12 degrees, [I had to wear] shorts and open thongy (sic) things," he said.
"After a lot of hanging around and dodging rain because it was blustery, cold and rainy, I was then required to walk on set at a particular time.
"If I'm on screen, and not even frontal, it'll be my side elevation going through, for more than about five seconds, then I'd be surprised."
Contributions
A number of WA organisations have contributed to the funding of the film, including state government film funding agency ScreenWest, the South West Development Commission, the Augusta-Margaret River and Busselton shires, Tourism WA and the Augusta-Margaret River Tourism Association.
The Association's chief executive Simon Ambrose says his organisation was quick to invest $10,000.
"[We wanted] to give a bit of impetus for other sponsors and supporters to get involved and be part of the whole project," he said.
Mr Ambrose believes the benefits the film will bring to the South West region will be enormous.
"Not only to add a little bit of stimulus to the area with restaurants being used, accommodation being booked that sort of thing," he said.
"But also I think what it will do is once the film's produced and gets out there in the wider international community it'll just help to reinforce the Margaret River brand which continues to grow."
While he won't commit to a dollar figure in terms of the size of the economic stimulus to the local economy, he does believe it will be sizeable.
"What I do know is production value of the film is over $12.5 million," he said.
"If you say that a couple million dollars of that is being spent in the region, from restaurants to taxis to tour operators to accommodation providers and all over the place, it all adds to the benefit."
Isla Inglis works at the Margaret River Hotel where many of the cast and crew are staying.
She says there's nothing extraordinary or extra exciting about the guests.
"They're all very nice and polite but nothing special, very boring," she laughs.
"Everyone has bit of a connection like our maintenance man, his brother in law they're filming on his land, or something like that. Everyone's got bit of a connection but nothing huge."
On location
Tim Duffy says there are positives and negatives to being on location.
"A plus in Hollywood is that we have very easy access to equipment and film facilities whereas here it is BYO for a lot of the film gear as this is considered a very remote location," he said.
"In Hollywood we have ready access to the world's best acting talent, whereas here we have to find fresh talent – which can be great."
He says the trick is to make the most of what you have got.
"I find every positive has a downside and every negative an upside, and the key is to go in aiming to elevate the positives to service the story and minimise the negatives to get the job done as efficiently as possible."
For the full story go here:
http://www.abc.net.au/news/2011-08-19/the-feature-film-drift-should-boost-tourism/2847664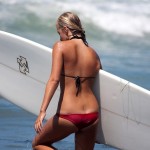 Become A Sponsor!
If you have a product or service that is a good fit for our surf community, we have opportunities for you to sponsor this blog!
Download our media kit now!