VIA – SANTA CRUZ PATCH


Local Surfers Take on NOAA, a Government Agency They Say is Out of Control
Congress and Dan Rather have looked into abuses at the agency charged with monitoring the seas and atmosphere, but little has been done, they say.
By Brad Kava
August 18, 2011
When big wave surfers Jeff Martin and Scott Jarrett surfed some early-morning waves off Moss Landing last March, the last thing they expected was to face a fine that could be as high as $140,000.
They also didn't expect to be fighting it six months down the road with an agency they say is corrupt, unscientifically based and out of control.
When they pulled their jet ski out of the water at 9 a.m. March 15, they were given a ticket for $500 by an enforcement officer with the National Oceanic and Atmospheric Administration for using jet skis in an area not approved for them.
The ticket warned that if they chose to fight it, they could be assessed as much as $140,000. They chose to fight.
They will take the fight to Santa Cruz Thursday at 9:15 a.m., when the Monterey Bay National Marine Sanctuary holds a day-long advisory council meeting.
They plan to make their case during a portion of the meeting reserved for business not already on the agenda.
"If they don't do something, they will have another surfer's death on their hands," said Jarrett, 40, who owns a trucking company and has surfed most of his life.
For the full story go here:
http://santacruz.patch.com/articles/local-surfers-take-on-noaa-a-government-agency-they-say-is-out-of-control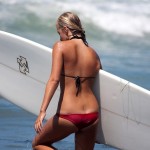 Become A Sponsor!
If you have a product or service that is a good fit for our surf community, we have opportunities for you to sponsor this blog!
Download our media kit now!