VIA – LONG BEACH PATCH


'Surf Prince of Long Beach' Profiled in Men's Journal
Balaram Stack is a rising young surfer who competed in the Quiksilver Pro New York in September.


By Joseph Kellard
8:00am
Balaram Stack, a Point Lookout native who surfed as an automatic wildcard in the Quicksilver Pro New York competition in Long Beach in September, keeps attracting more media attention.
The November issue of Men's Journal, a popular health, sports and lifestyle magazine, features a story on Stack, the 20-year-old who, we learn, some call "The Surf Prince of Long Beach" and "Bottle Rocket." The story recounts Stack facing off against multiple world champion Kelly Slater in the first round of the competition held off National Boulevard Beach, as well as Stack's birthday bash at Paddy McGee's in Island Park the night before. It also quotes Mike Nelson, co-owner of UnSound Surf, a surf shop on East Park Avenue where Stack was a regular customer, on the young surfer's prospects for eligibility on the junior circuit in 2012.
Prior to the competition in September, the New Yorker wrote about Stack in an article simply titled "Local Hero." In part, the article focuses on Stack's time growing up in Point Lookout and surfing in Long Beach.
In other news, the Association of Surfing Professionals…
For the full article go here:
http://longbeach.patch.com/articles/balaram-stack-profiled-in-men-s-journal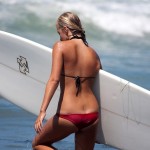 Become A Sponsor!
If you have a product or service that is a good fit for our surf community, we have opportunities for you to sponsor this blog!
Download our media kit now!