VIA – TELEGRAPH UK


Shark repellent' invented by surfer
Surfers have never felt safer thanks to the invention of so-called 'shark deterrent' products, but experts are questioning whether the new devices really work.
By Louise Gray, Environment Correspondent
3:31PM GMT 16 Nov 2011
The latest device, the Electronic Shark Defense System, was designed by Honolulu surfer Wilson Vinano Jr along with Collin Kobayashi, an engineer and president of 3D Innovations.
The device, which costs around £300, sends out "electric pulses that interfere with the gel in a shark's nose," according to a press release.
It is claimed "extreme testing" was conducted that shows sharks stay away from the user.
A number of companies are marketing electronic devices that fit to boards for surfing or windsurfing or can even be attached to scuba diving kit.
The 'shark shield' developed by a company in Australia, emits a protective electrical field via its water proof antenna, that supposedly deters sharks without harming surrounding wildlife.
Shark Shield Pty Ltd claim their technology "allows you to surf and enjoy the oceans without fear".
The new devices are designed to give surfers confidence and prevent the need for killing the rare creatures.
However Dr. Kim Holland, a marine biologist at the Hawaii Institute of Marine Biology Shark Research Group, said warding off sharks is not that simple.
He said that for most sharks an electric pulse is like nails on a chalkboard — annoying but not always effective.
for the full article go here:
http://www.telegraph.co.uk/earth/wildlife/8894047/Shark-repellent-invented-by-surfer.html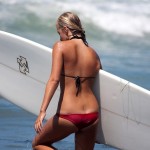 Become A Sponsor!
If you have a product or service that is a good fit for our surf community, we have opportunities for you to sponsor this blog!
Download our media kit now!