VIA – EASY READER NEWS
Greg Browning numbskull closeouts earned him first place in the 5th Annual Bear Back contest. Photo by Mike Balzer
Bear Back Surf Contest co-founder Jeff Browning summed up the enthusiasm South Bay surfers feel for the annual Super Bowl weekend event with his "Ode to the Bearback," which he read before the first heat Saturday morning at 16th Street in Hermosa. The poem began:
The ocean kisses my toes.
My brain says, "NO!" 
but my body goes.
 I cringe, look around,
Too late to back out now.
What is wrong with me?
Can I fake an injury?
Cheyne Magnusson gets covered up, in pink. Photo by Mike Balzer
The offshore wind was an icy 51 degrees and the water a headache-inducing 57. The contest's only rule is No Wetsuits.
Jimmy Young came up with the idea five years ago because he never wears a wetsuit, anyway. He trains for the contest year round by pulling pitchers of beer at his Pitcher House in Redondo Beach.
Heats are 20 minutes. For the average person, hypothermia sets in after 10 to 15 minutes in 50 degree water. The symptoms are loss of dexterity, incoherency and unconsciousness. Another symptom, as blood rushes to the extremities, causing a heating sensation, is an urge to shed one's clothing. All of these symptoms were in evidence throughout the contest.
But loss of coherence appeared to work in Greg Browning's favor as he repeatedly pulled into punishing, closeout barrels to win the contest. His fellow Body Glove cameraman Scott Smith was second. Last year's champion Matt Walls and Body Glove team rider Shane Magnusson tied for third. Connor Beatty was fourth. Walls' son Kiernan, and Ron Roebuck's son Satchel, both 10, were the youngest competitors in the contest's history. They said they did it because there fathers made them.
Young was awarded the Pink Belly award, and allowed to display the perpetual trophy in his bar until next year for surfing in all five heats.
Jex McCartney gets bonus points for mooning the judges. Photo by Mike Balzer
In addition to founders Jimmy Young and Jeff and Greg Browning, contestants included: Matt Walls (2011 champion), Matt Singley, Aaron Osten, Bill Sanders, Connor Beatty, Rob Kalafut, Elias Shepherd, Chyo Baldocchi (2010 champion), Kieran Walls, and Satchel Roebuck (10, co-youngest competitors), Davey Latter, Conrad Scouton, Kevin Cody, Jani Lange, Sean Larned, Scott Daley, Ron Roebuck, Tom Bowlby, Frank Mazzotta, Scott Smith, Cheyne Magnusson, Garrett Quon, Steven Stanley Kiwi, Justin Quirk, Scott from Pitcherhouse, Adam Buckley, and Jex McCartney.
Ode to the Bearback 2012
by Jeff Browning
The ocean kisses my toes.
My brain says, "NO!"
but my body goes…
For the full poem and story go here:
http://www.easyreadernews.com/45700/bearback-surf-hermosa-beach/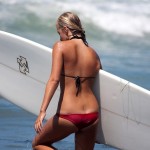 Become A Sponsor!
If you have a product or service that is a good fit for our surf community, we have opportunities for you to sponsor this blog!
Download our media kit now!