VIA – ABC AUSTRALIA
Taxpayers slugged for surfing event's failure
Updated February 07, 2012 14:51:13
There has been a taxpayer-funded bailout of a surfing event on Kangaroo Island.
South Australian Tourism Minister Gail Gago says about $400,000 will go to 16 businesses on the island which helped stage last year's event.
She says the money will be from the existing budget of the South Australian Tourism Commission, which was a sponsor of the competition last November.
Organisers said the remote location, at Vivonne Bay on the island's southern coast, had led to higher costs than expected, a point the Minister has made again today.
"Some of the problems included just the scale of the event, it also being in a very remote location and the very short lead-up time meant that the event was more expensive to stage than anticipated," she said.
"Many of these types of events often don't make money in their first year – for instance the Tour Down Under [cycling] took a number of years to run before it was actually able to pay for itself, so we need to look at these things closely and then make a decision about future events."
Ferry operator Sealink has agreed to write off more than $70,000 it is owed by the event organiser, Surfing SA.
United States surfer Kolohe Andino won the event, but it was hampered by a lack of waves, with the sea dead flat on some days.
There was also concern…
For the full article go here:
http://www.abc.net.au/news/2012-02-07/bailout-taxpayers-kangaroo-island-surfing/3815798?section=sa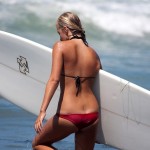 Become A Sponsor!
If you have a product or service that is a good fit for our surf community, we have opportunities for you to sponsor this blog!
Download our media kit now!