VIA – EASY READER
Best Surf Shop Shaper: Pat Ryan
March 9, 2012 6:07 pm
Pat Ryan shaped longboards for Greg Noll in the '60s and shortboards and twin fins for ET Surf in the '70s, followed by thrusters in the '80s, performance longboards in the '90s, and his own King Fish design in'00s.
So it's a bit of a surprise to hear one of surfing's most versatile shapers describe current board designs as "more varied than ever."
"People don't just ask for a 6-foot square tail," he said. "They talk about wider noses, narrower tails, and fin placement," he explained.
"Surfers are more educated about design than they've ever been," he said. "Kids get on a PC with an idea for a new shape, and if it works, they give it a name. Other kids read about it and ask for it."
Fortunately for Ryan, he has his own shaping machine. When former Mira Costa stand-out Nick Natter asked Ryan for one his rocket boards, but with a narrower tail, Ryan went to his computer, pulled up Natter's old rocket design, and made the adjustment.
Ryan is unapologetic…
for the full article go here:
http://www.easyreadernews.com/47762/best-surf-shop-shaper-pat-ryan/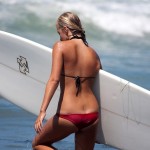 Become A Sponsor!
If you have a product or service that is a good fit for our surf community, we have opportunities for you to sponsor this blog!
Download our media kit now!