VIA – YAHOO!
Surfer Andrew Cotton Rides a 50 Foot Wave Off Mullaghmore, Ireland
The weekend of March 10th, 2012, off the shores of a charming seaside village in Ireland, monster waves were giving surfers the rides of their lives. Some of those surfers were Andrew Cotton, Finn Mullan and Tom Butler. Here are a few more details:
About the Incident
The men were surfing in waters off Mullaghamore, Ireland, that had been churned up courtesy of the "Viking Storm" that had descended on the area. The storm system was named as such because the winds were coming out of Greenland, the ancestral home of the Vikings. The waves were 25 to 50 feet high. 32 year old Cotton was fortunate enough to catch and successfully ride one of the 50 foot waves. Reading about Cotton's experience made me curious about other monstrous waves previously tackled by surfers.
Surfing Records
Apparently, in the fall of 2011 an even larger wave took place in Praia do Norte, Nazare, Portugal. It was allegedly 90 feet tall and was tackled by surfer Garrett McNamara. McNamara happened to be surfing at the time of the wave's appearance and was able to ride the monster successfully. Long time surf fans may also recognize McNamara's name from his 2007 Alaskan surfing escapade at Child's Glacier. While there he rode a 25 foot wave that was created by a glacial break.
After catching the 90 foot tall wave in Portugal, McNamara had purportedly hoped that his feat would best surfer Mike "Snip" Parsons' Guinness World Record. However, to date, Parson's record remains standing. Part of the reason behind that could be that getting a feat recognized by the Guinness World Records' officials does take time. So perhaps McNamara's record will be formally noted on the organization's website at a later date. Parsons earned his surfing record by tackling a 77 foot high wave at Cortez Bank in Southern California during the month of January 2008. In addition to the Guinness World Record, Parsons' surfing feat that day also helped him earn a spot in the Surfer's Hall of Fame as well as the 2008 Billabong XXL Award.
Other Record Waves
Storms and earthquakes are known to kick up monster surf…
For the full story go here:
http://sports.yahoo.com/top/news?slug=ycn-11082220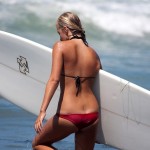 Become A Sponsor!
If you have a product or service that is a good fit for our surf community, we have opportunities for you to sponsor this blog!
Download our media kit now!