RIP Bruddah Mel!
VIA STAR ADVERTISER
Mel Kinney, who appeared in 'Five-0's' original credits, dies
POSTED: 03:19 p.m. HST, Feb 16, 2012
LAST UPDATED: 03:46 p.m. HST, Feb 16, 2012
SCREEN CAPTURE FROM THE ORIGINAL "HAWAII FIVE-0"
Mel Kinney as he appeared in the opening sequence for the original "Hawaii Five-0" TV show.
Mel Kinney, whose boyish face was part of the opening credits of the original "Hawaii Five-0," died Tuesday after suffering a heart attack several days earlier. He was 57.
An avid big-wave surfer and member of the original Hokule'a crew, Kinney was a set dresser in recent years, working on the ABC TV shows "Lost," "Off the Map" and "The River" as well as the motion picture "Pirates of the Caribbean: On Stranger Tides," said his sister, Leimana Damate.
Kinney had just come ashore at Sunset Beach after a surf session Feb. 1 when he was stricken, she said.
"He had an undiagnosed heart problem," she said. "He was in perfect health. He came in and took a shower and sat down to talk with a friend and had a major cardiac arrest. His last memory was of Sunset…"
For more information go here: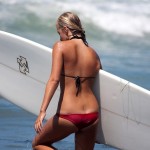 Become A Sponsor!
If you have a product or service that is a good fit for our surf community, we have opportunities for you to sponsor this blog!
Download our media kit now!