VIA – FLORIDA TODAY
Surfing forecast for weekend of Feb. 17-19
12:01 AM, Feb. 17, 2012
Surfer Bob Freeman of Melbourne checks out the waves at 2nd Light Beach across from the PAFB main gate. / CRAIG RUBADOUX, FLORIDA TODAY
Today
The surf will run in the thigh- to waist-high range with clean lines from a light offshore breeze. Late morning's lower tide and occasional bigger sets from a distant swell source could provide some fun rides for shortboarders and longboarders.
Saturday
Surf heights may build to mostly waist high, but steady onshore winds will create bumpy conditions. I expect light onshore breezes early, then becoming windy later in the day.
Sunday
Surf heights should remain in the thigh- to waist-high range with strong winds from the south producing very bumpy conditions. There is a chance those winds may become more southwesterly, which would improve the surfing conditions for Brevard's southernmost surf spots.
Wave heights
Saturday
Water temp68
Playalinda2′-3′
Cape Canaveral2′
Cocoa Beach2′-3′
Satellite Beach2′-3′
Indialantic2′-3′
Melbourne Beach2′-3′
Sebastian Inlet2′-3′
Sunday…
For the full Florida surf report go here:
http://www.floridatoday.com/article/20120217/SPORTS/302170027/Surfing-forecast-weekend-Feb-17-19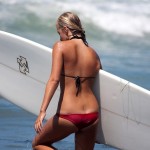 Become A Sponsor!
If you have a product or service that is a good fit for our surf community, we have opportunities for you to sponsor this blog!
Download our media kit now!