VIA – SANTA CRUZ SENTINEL
Big Wave Surfing: Nelscott Reef window is open
Big Wave Surfing: Nelscott Reef window is open
– Sentinel staff report
Posted: 10/02/2011 01:30:17 AM PDT
Filling its role as harbinger of the North American big wave surf season, the window for the Nelscott Reef contest opened Saturday. The contest can be held anytime between today and Dec. 31.
The Nelscott Reef Big Wave Classic has a history of being the first to open its contest window each year. It also has a history of being one of the most consistent big wave contests. In each of the past six years, organizer John Forse has successfully given the event a green light in some of the best big wave surfing conditions of the winter.
When the call is given, invited surfers are given 48 hours to reach the frigid waters off the coast of Lincoln City, Ore. Kohl Christianson of Hawaii won the 2010 event on waves in the 50-foot range.
Last year, Nelscott Reef became the first big wave surf contest to offer a women's division, albeit as an exhibition. The women will also be given an exhibition session this season.
In addition, the contest will serve as the third stop on the Big Wave World Tour. Santa Cruz native Peter Mel leads the BWWT standings after winning event No. 2 in Peru.
Other events on the BWWT include Maverick's…
For the full story go here:
http://www.santacruzsentinel.com/sports/ci_19023268
For information on Nescott Reef go here:
http://en.wikipedia.org/wiki/Nelscott_Reef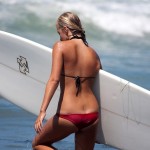 Become A Sponsor!
If you have a product or service that is a good fit for our surf community, we have opportunities for you to sponsor this blog!
Download our media kit now!