VIA – TAHITI PRESS

Billabong Pro: cérémonie d'ouverture émouvante avec un hommage à Andy Irons


Publié le 20 août 2011 à 11:58
La cérémonie d'ouverture de la Billabong Pro a eu lieu, vendredi après-midi, sur la presqu'île de Tahiti. Des débuts émouvants, pour la 11e édition de cet évènement international, puisqu'un hommage a été rendu au surfeur Andy Irons, en présence notamment de son frère, Bruce, à la pointe Fare Mahora de Teahupoo.
Après un orero, et les discours des différentes personnalités, dont le ministre des Sports, Tauhiti Nena, et le président de la fédération tahitienne de surf, Philippe Klima, le public c'est dirigé vers la mer pour y jeter des couronnes de fleur en mémoire du grand surfeur hawaiien, Andy Irons, décédé en novembre dernier, aux Etats-Unis.
Triple champion du monde, de 2002 à 2004, Andy Irons avait notamment remporté la Billabong Pro, l'année dernière, à Tahiti, quelques mois avant son décès. Son frère, très ému, par cet hommage, n'a pu retenir son émotion lors de la cérémonie. Il est clair que l'absence d'Andy laisse un grand vide cette année, et ce alors même qu'il était considéré comme étant l'un des meilleurs surfeurs sur le site de Teahupoo.
La cérémonie d'ouverture s'est achevée avec le rapide mais magnifique concert de Colbie Caillat. La jeune chanteuse et guitariste américaine de 26 ans, arrivée la veille à Tahiti, s'est produite devant un public de privilégiés. Après quelques chansons de son nouvel album, la chanteuse à terminé sa prestation avec l'un de ses tubes les plus connus: "Bubbly". L'occasion de faire profiter tout à chacun de son talent et sa magnifique voix, elle qui a obtenu il y a peu un Grammy award et a chanté pour le président des Etats-Unis.
Premiers tours dès samedi matin
La compétition devait, pour sa part, débuter dès samedi matin, une houle significative de Sud Ouest de 2 mètres étant attendue à cette occasion. Celle-ci devrait même monter jusqu'à 3 à 4 mètres en milieu de semaine prochaine. Contrairement à l'an dernier où les vagues n'avaient pas pointé leur nez durant toute la période d'attente ("waiting period"), cette année, les conditions devraient être biens différentes.
L'Australien Joel Parkinson, l'actuel leader du circuit mondial devra faire attention à ses rivaux, notamment le Sud Africian Jordy Smith. Pour le Tahitien Heiarii Williams, qui a obtenu une invitation après sa deuxième place, la semaine dernière, aux Trials, le premier tour sera particulièrement compliqué puisqu'il devra affronter le "roi" Kelly Slater, dix fois champion du monde et vainqueur de la Billabong Pro à trois reprises (2000, 2003 et 2005). Quant au second Tahitien en lice, Michel Bourez, il sera opposé au premier tour à l'Hawaiien Dustin Payne et à l'Australien Kieren Perrow.
For the original post and all the photos go here:
http://tahitipresse.pf/2011/08/billabong-pro-ceremonie-douverture-emouvante-avec-un-hommage-a-andy-irons/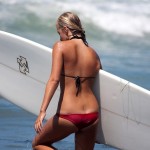 Become A Sponsor!
If you have a product or service that is a good fit for our surf community, we have opportunities for you to sponsor this blog!
Download our media kit now!