VIA – SANTA CRUZ SENTINEL


Santa Cruz big-wave surfers, NOAA try to propel new jet ski policy
By STEPHEN BAXTER — Santa Cruz Sentinel
Posted: 08/20/2011 12:54:04 PM PDT
SANTA CRUZ – A few Santa Cruz County big-wave surfers squared off with officials from the Monterey Bay National Marine Sanctuary on Thursday in an ongoing debate about jet ski rules in the sanctuary.
Scott Jarrett of Aptos and Jeff Martin of Santa Cruz received a $500 ticket for tow-in surfing with their Honda personal watercraft in big surf at a prohibited area off Moss Landing on March 15. The pair have fought the ticket, and a trial date has been delayed so federal officials could gather more information.
Separately Thursday, they spoke out against jet ski restrictions in big waves at a sanctuary advisory council meeting at the Santa Cruz Police Department. The council advises the staff of the National Atmospheric and Oceanic Administration but has no binding power.
Many council members said they wanted to pursue the issue and potentially float new rules. No one spoke against it.
The rules initially were intended to protect wildlife such as sea otters that could be harmed by jet skis.
The issue of safety in big surf peaked in the days after March 16, when Hawaiian pro surfer Sion Milosky died at Maverick's. Jacob Trette of Orange County also nearly drowned at the famed break near Half Moon Bay in January.
Trette's parents credited their son's rescue to a photographer who was out illegally on a jet ski and brought Trette to shore.
Jet ski advocates have said the skis are necessary in big surf because they can zip between big waves and rescue surfers.
The jet ski issue was brought up during a public comment period Thursday and not on the council's agenda.
Regardless, the Monterey Bay advisory council decided that the National Marine Sanctuary Advisory Council for the Gulf of the Farralones should "take the lead" on the issue at least for now. That body also advises NOAA but its area covers Maverick's and other areas in San Mateo and San Francisco counties.
The Farralones council recently formed a committee to look into whether jet ski rules should be changed.
"It's really in their purview now," said Paul Michel, superintendent of the Monterey Bay advisory council.
Steve Sheiblauer, a council member and the Monterey harbormaster, said the Monterey Bay council should have a say in any new rules. He said surfers have used his launch ramp in Monterey to put in jet skis to surf Ghost Tree, another big-wave spot in Pebble Beach.
"Pajaro Rivermouth, Moss Landing – those places get really big and I think it's our issue, too," Sheiblauer said.
Gary Pezzi, who represents recreation users on the council, said at the meeting that he wanted more information.
"How many of the council have been out in big waves with expert users and have seen it? I don't think we have," Pezzi said.
After the meeting, Jarrett, a 40-year-old trucking company owner from Aptos, said he appreciated the council's comments.
"I'm glad they actually listened and were concerned," he said.
Jarrett added that he wanted to change the perception that jet ski users are reckless.
For the full story go here:
http://www.santacruzsentinel.com/localnews/ci_18712115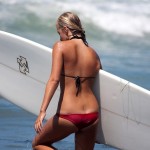 Become A Sponsor!
If you have a product or service that is a good fit for our surf community, we have opportunities for you to sponsor this blog!
Download our media kit now!