VIA – YAHOO!
Billabong's Financial Woes Impacts Surfing Community
By Killeen Gonzalez, Yahoo! Contributor Network 5 hours, 35 minutes ago
On February 24th, 2012 the surfing community learned that the Billabong Pro Jeffreys Bay was being downgraded by the Association of Surfing Professionals due, in part, to Billabong's recent financial woes. Here are a few more details:
Billabong's Significance to ASP Events
Billabong is a major supporter of multiple ASP events. The event in Jeffreys Bay was just one of them. The company also supports the Billabong Rio Pro, the Billabong Pro Teahupoo and the Billabong Pipe Masters as well as a few ASP Star events like the Billabong Pro Tahara and the Billabong Surf Eco Festival. At this point the beleaguered company has indicated that it will continue to support the remaining events. How long the company will feasibly be able to continue its support of ASP events remains to be seen. In addition to its financial woes, Billabong is being pursued by potential buyers who may not share the present management's love of sponsoring surfing competitions.
Billabong's Problems
The company's current financial woes have been attributed to a high debt load, increased competition and sluggish sales. The tour's downgrade is just one of the cost cutting measures the company has undertaken. It is also planning to make reductions to its staff, retail locations and portfolio.
Impact of the Downgrade
By downgrading the Billabong Pro Jeffreys Bay event the company effectively lowered the contest's prize purse, opened it up to other competitors and altered the ASP World Championship Tour Series' schedule. The prize purse for the ASP 6-Star Jeffreys Bay is now tentatively set at $155,000. That's a considerable reduction when you consider that World Tour prize purses tend to range from $425,000 to $500,000. Such a loss can be devastating to professional surfers who count on prize purses to supplement their income. The reduced…
For the full story go her:
http://sports.yahoo.com/top/news?slug=ycn-11007190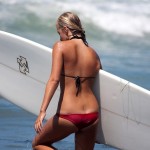 Become A Sponsor!
If you have a product or service that is a good fit for our surf community, we have opportunities for you to sponsor this blog!
Download our media kit now!