VIA – 89.3 KPCC
New anti-doping policy for pro surfers takes effect this weekend
Episode: The Madeleine Brand Show for February 24, 2012
Quinn Rooney/Getty Images
Andy Irons of the United States of America competes during Round One of the Rip Curl Pro as part of the ASP World Tour held at Bells Beach March 21, 2008 in Torquay, Australia.
The surfing world will gather in Australia this weekend for the first stop of the Association of Surfing Professionals World Title Series. The winner will take home more than $400,000.
But this year, strict anti-doping measures will be introduced by the ASP, testing everything from pot to steroids. The new policy will bring surfing in line with the official code of the World Anti-Doping Agency, the same standards used at the Olympic Games. Offenders face a minimum one-year ban from surfing competitions if …
For the full article and audio download go here:
http://www.scpr.org/programs/madeleine-brand/2012/02/24/22667/new-anti-doping-policy-for-pro-surfers-takes-effec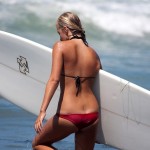 Become A Sponsor!
If you have a product or service that is a good fit for our surf community, we have opportunities for you to sponsor this blog!
Download our media kit now!