VIA – BABYLON VILLAGE PATCH
Body Found at Jones Beach May Be Missing Gilgo Surfer
Medical Examiners to determine if identity is surfer from Old Field who went missing off waters of Gilgo Beach last Thursday.
By Andrew Coen
6:45pm
An unidentified male body washed ashore at Jones Beach Monday afternoon and investigators are trying to determine if the identity is a surfer from Old Field who went missing in the waters off Gilgo Beach late last week.
The white male body was discovered at around 3:50 p.m. on the Jones Beach shoreline near Parking Field 4, according to Thomas Duignan, Detective Sergeant for the New York State Park Police who responded to the scene.
Duignan said the body is being taken to the Nassau University Medical Center morgue in East Meadow to determine its identity and whether it is surfer Zachary Gottfried of Old Field, who disappeared out at sea near Gilgo Beach State Park last Thursday evening.
Since Gottfried was reported missing, police have been busy searching for his whereabouts in the areas of Robert Moses State Park and Jones Beach, according to Duignan.
The Nassau County Police Department have sent out a helicopter around Jones Beach each day since Gottfried went missing and the Babylon Department of Public Safety recovered a paddle belonging to the surfer Friday, Duignan said. State Park Police also requested and received assistance in the search from the Long Beach Police Department, according to Duignan.
The U.S Coast Guard, which has also taken part in the search for Gottfried, did not return calls seeking comment.
At the time Duignan went missing, a "high surf" …
For the full story go here:
http://babylonvillage.patch.com/articles/body-found-at-jones-beach-may-be-missing-gilgo-surfer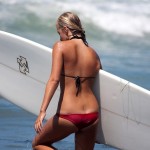 Become A Sponsor!
If you have a product or service that is a good fit for our surf community, we have opportunities for you to sponsor this blog!
Download our media kit now!