No way! Dude…
VIA – HOLLYWOOD REPORTER


'Point Break' to Be Remade by Alcon and Warner Bros.
3:56 PM PDT 9/12/2011 by Gregg Kilday
The original 1991 movie, directed by Kathryn Bigelow, starred Keanu Reeves and Patrick Swayze.
Point Break, the 1991 thriller set against the world of surfing, is getting an extreme-sports make-over, courtesy of Alcon Entertainment and Warner Bros.
our editor recommends
Bin Laden Filmmakers Kathryn Bigelow, Mark Boal Shoot Back at Republican Congressman
'Buffy' Remake Finds a Home at Warner Bros.
'Dirty Dancing' Kenny Ortega: 5 Things About the Remake Director
In the original film, directed by Kathryn Bigelow, Keanu Reeves starred as Johnny Utah, an undercover FBI agent looking for a gang of bank robbers, led by Patrick Swayze's Bodhi, amid the Southern California surfing scene. The new version, with a screenplay by Kurt Wimmer (Salt), will be set in the world of international extreme sports and also involve an FBI agent infiltrating a criminal ring.
VIDEO: George Clooney Talks Warner Bros. 2012 Release 'Gravity'
Alcon co-founders and ce-CEOS Andrew Kosove and Broderick Johnson secured rights to the project, which is marking its 20th anniversary, from Singapore-headquartered RGM Media, John McMurrick and Chris Taylor. Kosove and Johnson will produce along with Michael DeLuca, John Baldecchi, Taylor and Wimmer. RGM Media principal Devesh Chetty and investor McMurrick, chairman of Marloss Entertainment, will serve as executive producers.
PHOTOS: Summer Movie Guide
The film, which Warners will distribute, is being fast tracked, with the filmmakers set to take the project out to directors soon. The original movie was produced by Largo Entertainment and released by Fox.
In addition to the feature rights, Alcon has also secured television and gaming rights to Point Break.
"Who doesn't love the Kathryn Bigelow original and its pure heart-pounding action and thrills? Kurt's take infuses the story and characters with new twists and settings," Broderick and Kosove said.
For the full story go here:
http://www.hollywoodreporter.com/news/point-break-alcon-warners-remake-surfing-234185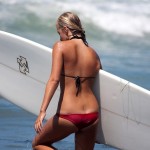 Become A Sponsor!
If you have a product or service that is a good fit for our surf community, we have opportunities for you to sponsor this blog!
Download our media kit now!