VIA – WNCT
Body located may be that of missing kite surfer
By: WNCT-TV & The Associated Press
Published: September 20, 2011
Updated: September 22, 2011 – 1:12 PM
CAPE LOOKOUT, N.C. – Coast Guard officials believe a body found off the Carolina coast may be the missing kite surfer who disappeared over the weekend.
The National Park Service discovered the body off Cape Lookout last night.
The Coast Guard suspended its search for the 44-year-old this week after he disappeared Sunday night.
His name has not been released.
— Original Story —
HATTERAS, N.C. (AP) – The U.S. Coast Guard has suspended its search for a 44-year-old male kite surfer missing near Hatteras Island.
Dare County 911 dispatchers contacted the Coast Guard at approximately 6 p.m. Sunday and reported the surfer's board and kite were located in the shoals, but he wasn't found.
The Coast Guard command center watchstanders issued an urgent marine information broadcast and launched rescue crews from Station
For the full story go here:
http://www2.wnct.com/news/2011/sep/20/3/coast-guard-halts-search-missing-kite-surfer-ar-1413745/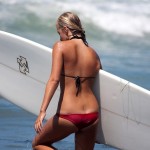 Become A Sponsor!
If you have a product or service that is a good fit for our surf community, we have opportunities for you to sponsor this blog!
Download our media kit now!