VIA – USA TODAY

Buff Gerard Butler masters dangerous surf

By Susan Wloszczyna, USA TODAY
It's been a toner, tanner and leaner Gerard Butler doing promotion rounds for his new film, Machine Gun Preacher, that opens Friday.
More: 'Machine Gun Preacher' is a love story
The 6-foot-2 Scotsman's new physique as well as his sun-kissed long locks can be attributed to his preparation for his next movie, a surfing biopic tentatively titled Mavericks – named for the infamous break in Northern California that has challenged many a daredevil — directed by Curtis Hanson (8 Mile, L.A. Confidential).
"It's about a kid, Jay Moriarty (played by newcomer Jonny Weston), who became a great big wave surfer," Butler said during his recent visit to the Toronto film festival. "I play Frosty Hesson, who's now teaching me how to surf. He was Jay's hero and his mentor. He didn't want him to surf Mavericks, because it was such a dangerous surf break and he was only 15. But he took this kid under his wing and almost became like a father to Jay, basically pushing him to be this incredible big wave surfer."
Butler has been getting into shape for a while, not only doing cardio and yoga but hitting the beach almost daily in Malibu. Those who stroll by, including paparazzi, have been lucky enough to see the actor catch a wave or two.
"Or they can see me try," he says.
Butler is being a mite humble. The week before he took advantage of the fierce swells in the area — "the biggest waves they've had in years" — to go up against some 12 footers. "On the third day, my surfing had improved so much that I surfed out on this wave and I felt I was 50 feet in the air. I was only 7 or 8 feet. But it felt so high. Then I dropped into this wave and surfed down the line for a long time. My instructor said, 'That's surfing!'"
For the full article go here:
http://content.usatoday.com/communities/entertainment/post/2011/09/buff-gerard-butler-masters-dangerous-surf/1
For more articles on Gerard Butlers new Maverick's Movie and photos of Gerard 'mastering' big waves go here:
http://surftweeters.com/?s=gerard+butler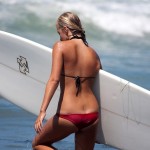 Become A Sponsor!
If you have a product or service that is a good fit for our surf community, we have opportunities for you to sponsor this blog!
Download our media kit now!