Boy possibly bitten by shark in Myrtle Beach
by Victoria Spechko
Posted: 08.15.2011 at 1:30 PM
Updated: 08.15.2011 at 1:45 PM
A 7-year-old boy was taken to the hospital Monday afternoon after a possible shark bite.
Myrtle Beach police say they're not sure if it was a shark or another type of fish that bit the boy while in the surf with family from West Virginia.
He had several puncture wounds to the bottom of one foot. The lifeguard nearby said it was not a life-threatening injury.
It happened in the area of 3rd Avenue North, near the pier.
Roseanna Woody of Greensboro, North Carolina told us her family was in the ocean on boogie boards in that area Sunday and saw sharks near the 2nd Avenue pier. "The lifeguards made us get out of the water because of Tiger Sharks, maybe baby sharks were in the area. They weren't too concerned, but it was about two hours that we had to be out of the water," Woody said.
Two men, who are also vacationing said they too spotted several sharks near the pier.
For the full story go here:
http://www.carolinalive.com/news/story.aspx?id=651742#.TkoUQoIS6uI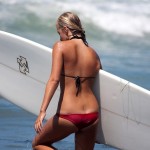 Become A Sponsor!
If you have a product or service that is a good fit for our surf community, we have opportunities for you to sponsor this blog!
Download our media kit now!