Arrest them all…better than fining them all since we just pay the fines back at the pump any way.
VIA – USA TODAY
Justice Dept. makes first arrest in BP oil spill
NEW ORLEANS (AP) – The Justice Department says the first criminal charges in the Deepwater Horizon disaster have been filed against a former BP engineer who allegedly destroyed evidence.
Kurt Mix, of Katy, Tex., was arrested on charges of intentionally destroying evidence in the worst offshore oil spill in U.S. history. He faces two counts of obstruction of justice.
The Deepwater Horizon oil rig exploded in the Gulf of Mexico on April 21, 2010, killing 11 men and spewing 200 million gallons of oil.
STORY: Two years later, sick fish found near oil spill site
VIDEO: Fishermen, businesses beg for oil spill money
The Justice Department says the 50-year-old Mix is accused of deleting a string of 200 text messages with a BP supervisor in October 2010 that involved internal BP information about how efforts to cap the well were failing.
BP (BP) officials did not immediately respond to emails for comment.
On March 2, 2012, BP agreed to settle lawsuits brought by more than 100,000 fishermen who lost work, cleanup workers who got sick and others who claimed harm from the oil giant's 2010 Gulf of Mexico disaster. The momentous settlement will have no cap to compensate the plaintiffs.
BP estimates it will have to pay out about $7.8 billion…
For the full article go here:

http://www.usatoday.com/money/industries/energy/story/2012-04-24/bp-oil-spill-arrest-justice-department/54504158/1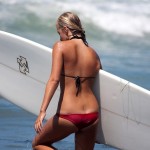 Become A Sponsor!
If you have a product or service that is a good fit for our surf community, we have opportunities for you to sponsor this blog!
Download our media kit now!