I hate California politics, can't get an aesthetic art piece up in public but you can piss away money on totally worthless bs without thinking twice…
VIA – UT SAN DIEGO

Surfing Madonna loses round in Sacramento
Written by
Michael Gardner
10:44 a.m., April 24, 2012
Updated 6:13 p.m.
Sacramento — The Surfing Madonna apparently won't be catching a wave at Moonlight State Beach in Encinitas.
Citing the artwork's religious nature and hesitant to overturn an earlier denial by the Department of Parks and Recreation, an Assembly committee on Tuesday rejected legislation that would have permitted the stained-glass mosaic to be installed at the oceanfront park.
Dubbed the Surfing Madonna, the 10-foot-by-10-foot mosaic captures an image of Our Lady of Guadalupe on a surfboard with the motto "Save the Ocean" running down the side.
Artist Mark Patterson and the city will now look for another location, most likely on city property or private land, said supporters of the measure.
"The mosaic is art. It's purpose is a secular one … and the message is clear: save the ocean," testified S. Christian Platt, the artist's attorney.
The legislation was introduced by Assemblyman Martin Garrick, R-Solana Beach, after the Department of Parks and Recreation last month turned down the city's request to install the mosaic at Moonlight State Beach. Encinitas operates the state-owned beach, but needs permission before altering the landscape.
"This artwork was not intended to be religious. The artist himself is not a Catholic and only seeks to raise public awareness for environmental issues and promote a shared environmental vision," Garrick, who has surfed for 50 years, told the committee.
Encinitas resident Bill Cavanaugh, who launched a campaign to save the mosaic, testified that "the world has embraced the mosaic and its message: save the ocean … We hope you allow us to bring her home."
But they failed to sway members of the Assembly Water, Parks and Wildlife Committee. The measure died without even a motion for passage.
Committee Chairman Jared Huffman, D-San Rafael, offered a twofold explanation: "I think this is a secular conservation message. It is lighthearted … I don't think this should offend anyone's religious sensibilities. I'm completely with you as far as that goes."
Nevertheless, Huffman continued, "I am not comfortable with the precedent of dictating" to the Department of Parks and Recreation.
Another committee member, Roger Hernandez. D-West Covina, opposed the mosaic's depiction of an important religious figure. "The way she is imaged here is disrespectful to the people of my culture, my background," said Hernandez, who said he was raised in a Catholic household.
Encinitas Mayor Jerome Stocks said later Tuesday that he expected Democrats would shelve the bill, claiming they are traditionally opposed to any art with a faith-based undertone while Republicans are eager to defend it.
"And we know who has the majority and who has the minority in Sacramento," Stocks added. "This is exactly what I predicted."
Patterson could not be reached for comment Tuesday.
Ironically, the decision came almost one year to the day the mosaic first mysteriously appeared on April 22 — a Good Friday and Earth Day in 2011…
http://www.utsandiego.com/news/2012/apr/24/surfing-madonna-loses-round-in-capitol/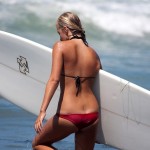 Become A Sponsor!
If you have a product or service that is a good fit for our surf community, we have opportunities for you to sponsor this blog!
Download our media kit now!