VIA – THE BRISTOL
Bristolians urged to invest in Wavegarden – the UK's first 'surfing lake'
Wednesday, February 15, 2012
BRISTOLIANS are being invited to invest in a project which would see the country's first "surfing lake" built in Bristol.
The team behind the ambitious project has gone public with its financial plans and is hoping to get as many people involved as possible in the Wavegarden scheme.
?
Wavegarden UK
Around £6 million is needed to fund the attraction but the two men who are driving the project are confident they can raise the cash from local and city investors.
And according to the official documents put together to attract investors they are also confident of eventually making profits of around £3 million a year.
The man-made surfing lake will use technology developed in Spain and the plan is to build several Wavegardens around the country if Bristol proves to be a success. The Avon Gorge is one possible site for the Bristol centre, although the location is yet to be confirmed. Brighton has already been identified as a likely location for the next surfing centre.
At the heart of Wavegarden is an unlikely partnership of businessman Tobin Coles and osteopath Nick Hounsfield. Both men have a passion for surfing and met thanks to their children attending the same nursery.
Nick came up with the original plan and the scheme first started to become a reality over what the pair now describe as 'one of the most expensive curries they have ever shared'.
Around £300,000 is needed to pay for the development process of the scheme and for getting it through the design development and planning process.
And once building work starts an extra £5.7 million will be needed to build the lake and surrounding gardens and facilities.
The team are looking for three different kind of investors from city institutions, venture capital groups and finally members of the community.
People and groups in the Bristol area can invest anything from £1,000 in the project with the aim as getting as many people as possible involved.
The two founders have each invested £100,000 but are confident of raising the cash in time to start work for work to start later this year or next spring.
Mr Coles, who has a history of creating and building up companies, said: "We have already had an enormous response both locally and with potential investors. What we are trying to do is something really special and we want to get as many people as possible get involved.
"This will be a first for the country and probably in the world. We are talking about putting Bristol on the map."
Mr Coles said: "Our business model puts sustainability at the heart of what we are doing.
"We believe that it is entirely possible to have a business that is not ashamed of being profitable, yet can also be inspiring and sustainable – sustainable environmentally, economically and …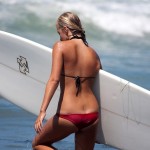 Become A Sponsor!
If you have a product or service that is a good fit for our surf community, we have opportunities for you to sponsor this blog!
Download our media kit now!