VIA – MANLY DAILY
See skateboarding kings rule the bowl at Australian Open of Surfing
15 Feb 12 @ 04:53pm by Bryn Kay
GE and nationality may differentiate Curren Caples and Bob Burnquist, but there's one undeniable similarity between the two – they are two of the world's biggest skateboarding stars.
Up-and-coming star Caples, 16, and the legendary Burnquist are two of the big names set to light up the skate bowl at Manly's Australian Open of Surfing.
Burnquist, from Brazil, is an eight-time Summer X Games gold medallist (skateboarding's equivalent of Olympic competition) and is known for launching himself high into the air on his skateboard – very high.
"It's great to be able to come out here and obviously the inspiration to go through all that flying is to know that Australia is Australia and it's so beautiful," Burnquist said.
"If anything I will go out there and have a good time on my board … don't expect anything crazy other than Bob having a good time, if that works for you."
Caples, from California, is one of the hottest young talents coming through the junior ranks – so hot that when Caples burst on to the scene at the 2010 Summer X Games he became the youngest competitor in the event's history.
He told the Manly Daily that he was the second most trending name on Google on his first day of that event and…
For all the details go here:
http://manly-daily.whereilive.com.au/news/story/see-the-skateboarding-kings-rule-the-super-bowl/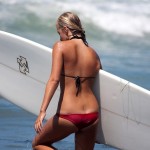 Become A Sponsor!
If you have a product or service that is a good fit for our surf community, we have opportunities for you to sponsor this blog!
Download our media kit now!