VIA – DAILYMAIL UK
British honeymooner in Seychelles was killed by a bull shark, DNA evidence reveals

By Daily Mail Reporter
Last updated at 2:49 PM on 26th October 2011
DNA evidence has revealed that British honeymooner Ian Redmond was killed in the Seychelles by a bull shark, it was reported today.
A tooth from the beast was found embedded in the IT consultant's leg and sent to the US for analysis after the tragic attack in August.
Experts feared that Mr Redmond, 30, had been mauled by a great white during the holiday ordeal that was witnessed by the victim's new wife Gemma, 27.


Tragedy: Smiling newlyweds Ian Redmond 30, and Gemma Houghton 27 before the shark attack that killed Mr Redmond
But a genetics expert in Florida has now discovered a crucial DNA 'barcode' and informed the Seychelles government that the killer fish was a 'carcharhinus leucas', or bull shark.
The discovery indicated that Mr Redmond, from Lancashire, was killed by the same type of animal as Frenchman Nicolas Virolle, 32, who had also died while swimming 16 days earlier.
Today, the country's Nation newspaper said local experts would now launch a targeted crackdown to protect tourists from the dangerous species.
A communique from marine managers to the Ministry of Home Affairs, Environment, Transport and Energy said: 'It's really helpful to know which shark species was involved.
'We can now focus our attention on studying the biology and movements of the species in Seychelles waters to help local managers prevent future incidences.
'This is a major breakthrough because it pinpoints to the identity of the shark species involved in the attacks.
'With this knowledge the government can now design and implement a targeted research programme to better understand the population dynamics, behaviour and distribution of bull and tiger sharks within our coastal waters.'
The cutting-edge procedure saw dentin from the beast's tooth removed by a Miami dentist before genetics scientist Mahmood Shivji analysed the DNA.
Professor Shivji, director of Save Our Seas Shark Center, in Florida, said: 'Finding the section of the tooth that had exposed dentin was essential.'
The breakthrough came two months after Mr Redmond lost his life while snorkeling in the paradise waters off Anse Lazio on August 16.
The tragedy happened just 10 days after his wedding to Gemma Houghton in Dalton, Lancashire.
Holidaymakers in high-risk areas were banned from swimming after the nightmare incident reminiscent of the hit thriller movie Jaws.
For the full article go here:
http://www.dailymail.co.uk/news/article-2053715/Ian-Redmond-Brit-Seychelles-killed-bull-shark-DNA-evidence-reveals.html?ito=feeds-newsxml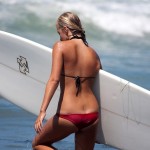 Become A Sponsor!
If you have a product or service that is a good fit for our surf community, we have opportunities for you to sponsor this blog!
Download our media kit now!