VIA – SANTA CRUZ PATCH
The O'Neill Cold Water Classic Starts Wednesday

One of Northern California's premier surfing competitions returns to Santa Cruz. You can watch it live at the link below.
By Andrew Forgy
8:39pm
Summer is coming to a close. Enthusiastic tourists, warm weather and the energy of live music at the Beach Boardwalk has left Santa Cruz. But as winter nears us, a new form of energy will electrify Surf City with solid waves and Northern California's premier surfing contest, the O'Neill Cold Water Classic.
After making two stops around the world – one in Scotland the other in New Zealand – the Cold Water Classic series will make its unpredictable finale in Santa Cruz Wednesday through Monday.
O'Neill is the title sponsor of the series and the finale will take place at Steamers Lane on the wast side of Santa Cruz. This is the same surf spot that Jack O'Neill, founder of O'Neill, developed the modern wet suit and surf leash in the early 1960's.
The O'Neill Cold Water Classic, first called "O'Neill Coors Cold Water Classic," began at Steamer Lane in 1987 and had a prize purse of $33,000. Now, 25 years later the prize purse for this World Qualifying Series event is $250,000. It will bring some of the top surfers from around the world.
The winner of the CWC series will be awarded a $50,000 bonus, and if Santa Cruz is as unpredictable as the first two stops, the series will come down to the last wave.
For the full article go here:
http://santacruz.patch.com/articles/the-cold-water-classic-is-back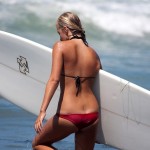 Become A Sponsor!
If you have a product or service that is a good fit for our surf community, we have opportunities for you to sponsor this blog!
Download our media kit now!