VIA – SWNS.COM
February 22, 2013 | by SWNS Reporter
A British surfer is on the crest of a wave after braving crocodile-infested waters to set a new world record – by riding a continuous wave for 12.8 miles.
Adventurous Steve King, 48, balanced upright on his board for knee-shattering one hour and four minutes.
He set the new record on the remote Kampar River in Sumatra, Indonesia, where a natural tidal phenomenon known as the 'Bono' pushes a 10ft wave upstream.
Steve King (red shirt, left) and friends Stephen Holmes (blue shirt) and Nathan Maurice (camo shirt) set out on the record breaking longest surf
The renowned bore rider smashed his own previous record for the longest single wave surf of 7.6 miles, which he set in front of 6,000 spectators on the River Severn in 2006.
And despite the deadly animals and tiring work, he still had the energy and composure to perform a headstand during the record-breaking performance.
Steve, a railway engineer, said: "I've been surfing for 30 years and the Bono on Kampar River was only discovered in recent years so I had to do it.
"The waves go up to 25mph and reach 10ft so they are three times as big as on the Severn.
"We saw a couple of small crocodiles and that was scary because where there are babies you're also going to find the mums. You certainly don't see them in the Severn.
"But we have surfed in the Amazon before where there dangerous animals but we try our best not to think about them."
Father-of-three Steve went on the trip with Bristol surfers Nathan Maurice, 36 and Stephen Holmes, 55, and French friend Fabrice Colas, 48, from Bordeaux.
Local villagers cheered the group on during their week-long challenge in the South East Asian country last week.
They surfed for six days with Steve managing 12.8 miles on the fifth day as he battled through extreme heat and 85 per cent humidity.
Stephen surfed for ten miles before falling off, Fabrice managed 11 miles and Nathan came off just before the wave came to an end at 12.8 miles, leaving just Steve standing.
The whole was trip was recorded using cameras attached to Steve's arm, helmet and the tip of the 9ft longboard.
Steve, of Saul, Glos., has now submitted the footage alongside data to Guinness for the record to be validated.
He added: "It is a tough wave to surf as…"
For the full story go here:
http://swns.com/news/british-surfer-sets-world-record-riding-river-wave-12-8-miles-31870/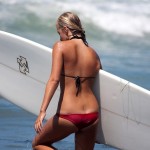 Become A Sponsor!
If you have a product or service that is a good fit for our surf community, we have opportunities for you to sponsor this blog!
Download our media kit now!