Mark Richards with wife Jenny, arriving on the red carpet for the annual Australian Surfing Awards. He was named Australia's most influential surfer. Picture: Tim Hunter. Source: The Daily Telegraph
IT WAS a 30-foot wall of water and Mark Richards was just a kid, just 17.
At the time it was hailed the biggest wave ever ridden in competition.
It was a ride on an ocean monster which captured the imagination of other surfers and a gob-smacked public.
It helped put surfing on the map as a sport pursued by those with strength, agility, fitness and nerves of steel. And extraordinary talent.
At 17, this teenage surfboard shaper from Newcastle north of Sydney left an imprint beyond his wildest imagination with his balance and agility. And fearlessness.
It was an imprint honoured on Wednesday night when the now 55-year-old was voted Australia's Most Influential Surfer 1963-2013.
This surfing pioneer and four-time elite world champion helped revolutionise the sport with his twin-fin surfboards while dominating it at the highest level
He was the first person to win four consecutive world championships between 1979 to 1982 with his sharp turns legendary and his technology selling worldwide.
And on Wednesday night, in front of his peers and a plethora of world champions, his impact on surfing made him a popular choice for the No.1 position in the top 10 list of Most Influential Surfers.
Australia's Most Influential Surfers 1963-2013
1. Mark Richards
2. Simon Anderson
3. Robert "Nat" Young
4. Michael Peterson
5. Midget Farrelly
6. Tom Carroll
7. Layne Beachley
8. Wayne Bartholomew
9. Mark Occhilupo
10. Bob McTavish.
For the original source go here:
http://www.heraldsun.com.au/sport/more-sport/pioneer-mark-richards-named-australias-most-influential-surfer/story-e6frfglf-1226582290273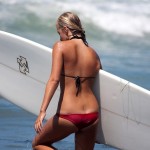 Become A Sponsor!
If you have a product or service that is a good fit for our surf community, we have opportunities for you to sponsor this blog!
Download our media kit now!