VIA – VANCOUVER ONLINE
Canadian loses leg in vicious shark attack
By Thandi Fletcher, Postmedia News September 30, 2011
A Canadian-born man is fighting for his life after being attacked by a great white shark while swimming at a beach in Cape Town, South Africa.
At about 12: 30 p.m. on Wednesday, Michael Cohen, 43, was swimming at a beach in Fish Hoek, a popular holiday destination in Cape Town, when he was bitten by a great white shark.
Cohen's right leg was severed below the knee and his left foot severely mangled in the vicious attack, according to a statement from city officials.
Cohen, a British citizen whom the British newspaper the Daily Telegraph reports as being born in Canada, was living in Cape Town and working as a part-time accountant.
Cape Town residents Douglas Drysdale and Hugh Till were driving home from a nearby prison, where they work as volunteer spiritual counsellors, when they noticed the horrific sight of a shark closing in from behind on the man who was swimming about 25 metres off shore.
"We ran to the beach to try to warn him, but as we got to the shoreline, the shark bit him," Drysdale said during a phone interview Thursday.
Drysdale described the shark as about three metres long, perhaps slightly larger.
Drysdale and Till waded into the water as quickly as they could towards the struggling swimmer as blood quickly pooled in the water around him.
As they attempted to grab Cohen's hands and pull him back to land, Drysdale said a seal suddenly swam between them and the shark, which was still lurking nearby.
Drysdale credited the seal for protecting them from all being attacked by the shark as it began swimming towards them, at one point getting "pretty close."
"The seal kept swimming around the injured man and kept distracting the shark, which was unbelievable," he said. "We truly believe that it was an act of God. It certainly was an absolute miraculous thing that was happening."
Once on the sand, Drysdale and Till, along with several shark spotters, tied a makeshift tourniquet around the stump.
"We dressed the wound using my belt and the belt of the shark spotter," explained Drysdale. "We were in pretty bad shock … It was pretty hairraising."
After paramedics arrived at the scene, Cohen was airlifted to a private hospital in the Cape Town suburb of Constantia where surgeons saved his left leg.
Cohen was in stable but critical condition Thursday in the intensive care unit.
According to Gregg Oelofse, Cape Town's head of environmental policy and strategy, Cohen, a regular swimmer at the beach, was well known to shark spotters and often went swimming despite warnings of shark sightings and beach closures.
For the full story go here:
http://www.vancouversun.com/technology/Canadian+loses+vicious+shark+attack/5482168/story.html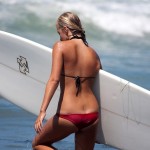 Become A Sponsor!
If you have a product or service that is a good fit for our surf community, we have opportunities for you to sponsor this blog!
Download our media kit now!